Not being honest with your agent about why you are selling.
Please keep in mind, what you share with your real estate agent is private. The more they know about you and your situation, the better they will be able to help and represent you. This will help them know what your goals are, and help cater the process to those goals and your situation.
.
Not disclosing what you need to disclose.
Sellers must disclose anything that might impact a buyer's decision to purchase the home, as well as any defects. Not being completely transparent, might lead you to being caught up in a costly lawsuit. When filling out the seller's disclosure, be sure to be completely honest, and when you truly don't know something, just say so.
.
Not searching for you home on har.com.
I have come across some huge listing mistakes in the past, that could have been avoided if the seller would have looked over their agent's actual listing. Be sure the address, city name, neighborhood name, bedroom amount, square footage, and so much more is accurate.
.
Not recognizing the seasonality of the real estate market.
We realtors, sometimes hate to admit it, but there are ideal months to list particular homes, and it is not always what you think?
.
Not fixing the small things.
Buyers do not truly know how much it costs to fix things, so please take your time to fix the little things. No repair is too small. Re-caulk certain areas in your bathroom, re-stain your front door, patch old nail holes, replace any cracked mirrors or window panes, and nail down any squeaky floor boards.
.
Not holding your real estate agent accountable for things they say they are going to do. 
If your agent has expressed that your home will be advertised on Facebook, a certain website, or in a particular publication, make sure they follow through with it. It isn't fair to be promised something, and then they don't deliver.
.
Not budgeting for house prep or minor fixes.
Painting, minor repairs, off-site storage, and staging are all costs you might want to consider before listing your home. It all adds up so fast.
.
Not being reachable during the sale.
At all times, if possible, please make sure your agent can reach you. They might have questions, or the buyers might want to negotiate off paper with you.
.
Not reading online reviews before hiring your real estate agent.
Visit Google, Yelp, and Facebook, to learn as much about your real estate agent prior to signing a six month relationship (aka, listing agreement) with them.
.
Not getting a pre-listing inspection if your strategy is to generate multiple offers.
Knowing the issues and hiccups that can arise, and figuring out how to avoid them, is insanely intelligent.
.
Not leaving your home for showings.
.
The NAR (National Association of Realtors) claims that this is the number one reason homes stay on the market for a long time. If a showing is scheduled, please leave your home. Even if it you are just going to the neighbors, or on a walk. That is decent enough.
.
Not tidying up before EVERY showing.
Make your bed, put away your laundry, wash your dishes, clean the floors, every time. You don't want the buyer to remember the tooth paste cap on the counter, or the hair in the bathroom drain. You want them to come away from your home remembering all the positive.
.
Not reading what you sign.
This goes for the listing agreement, or a contract you have with a seller. Please make sure you understand it fully, and no question is dumb.
.
Not insisting on your real estate agent using a talented professionally photographer.
Stunning photos are one of the most important things that can be done to make your property stand out. They give potential buyers the first impression, and they shouldn't cost you a thing!
.
Not tracking the competition and adjusting accordingly.
Every home that does and doesn't sell that is comparable to yours should be reflected in the price of your home. If you do not adjust, it might bite you, when it comes to appraisal time, if you get there.
.
Not insisting your home gets properly marketing online.
Online marketing, facebook ads, and video marketing are all key elements in getting a home sold in today's market. Be sure to check current/past listings of your real estate agent's prior to hiring them.
.
Not realizing the impact of a smelly house.
This can be fragrant smells (which one thinks are present when you are trying to hide something), or animal smells. Animals smells are one of the top reasons why a buyer might avoid your home. Please ask a honest friend (or your agent) for an honest opinion, and please take their advice.
.
Not listening to showing feedback.
If you hear one thing once, it might not need to be taken seriously, but if you keep hearing your home is overpriced, or the accent wall in the kitchen is distracting, you should probably do something about it.
.
Not clearing the clutter or depersonalizing your home.
Each counter should only have one focus or appliance in the kitchen. Bookshelves and closets should be minimal. And family pictures or odd pieces of art, might need to be packed away. You want the buyer to be able to visualize themselves in your home, not you.
.
Not holding your home owner's insurance a few days past your close date.
Not every home sale closes on the actual close date. You would hate to close late, and not have that policy still in place if something bad were to happen. It is always better to be safe than sorry!
.
Not leaving the lights on before each showing.
This is so much more important than one thinks. People want a light, bright, airy, and not stuffy house to call a home.
We are so happy you found our little corner of the interwebs. We look forward to y'all reaching out to us. We love to answer questions and welcome them. Recently we created some local maps, and you can download those by clicking the image/link above. Below, you will find an index of some very helpful information to assist you in learning more about the Houston suburbs. If you are relocating to our neck of the woods, we hope you reach out to us, because we would love to help you by being your local realtor and friend. Hugs, Jo.
Thoughtfully written for you by Jordan and the Jo & Co. Team.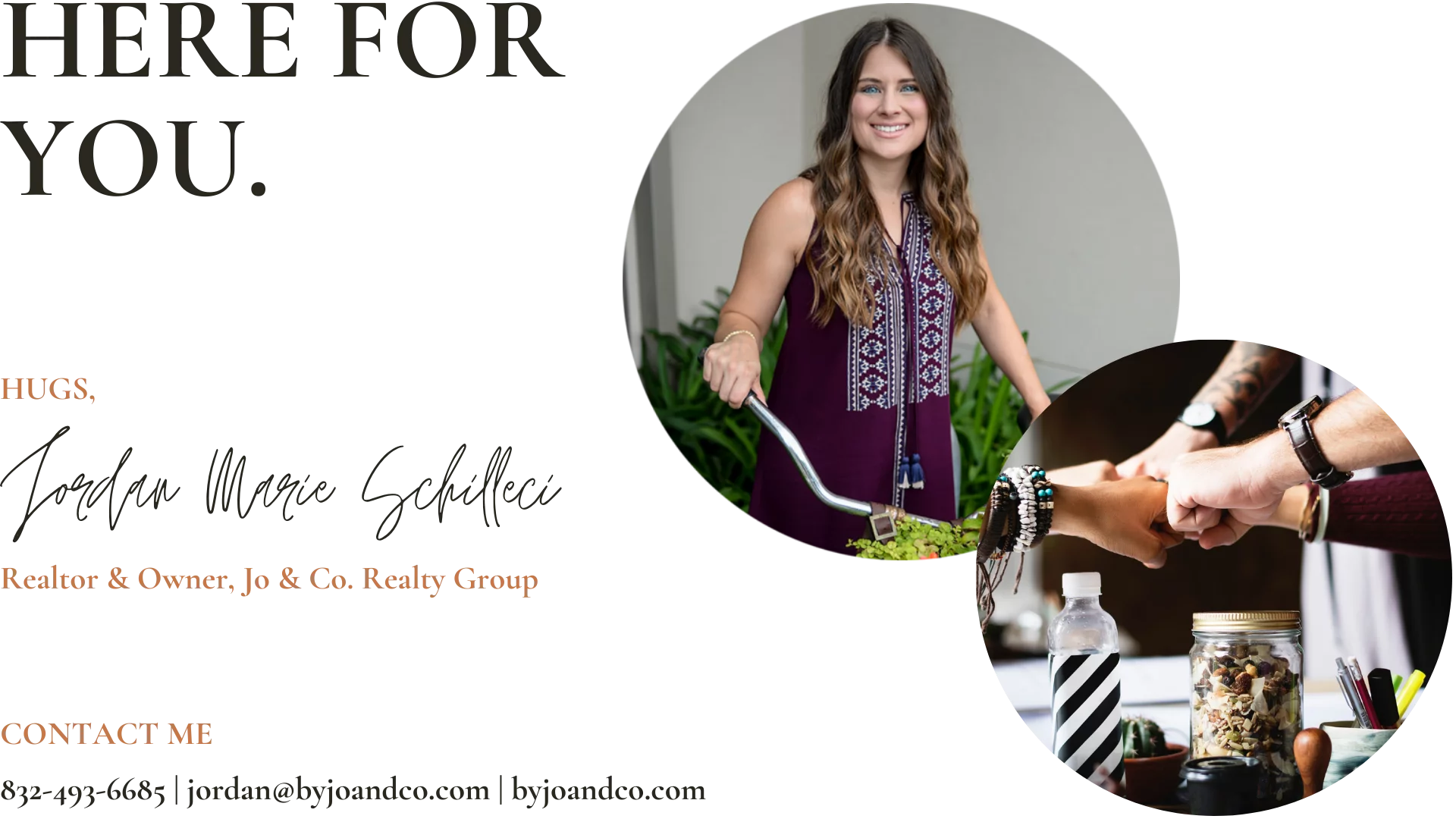 We are Waiting for You
If you are looking to relocate to the Houston Area, we would love to meet you, and hear your story. Below you will find all of my contact information, as well as some homes for sale in the area. We truly look forward to hearing from you! P.S. Don't forget to check out our YouTube Channel!

If you are overwhelmed..
Now if you are feeling overwhelmed on where you should plant your roots, I would love to talk to you. You can schedule a call with me by click this link: http://byjoandco.com/call or just send us an email: [email protected]. There are some amazing communities all over the Houston suburbs. In this post, https://search.byjoandco.com/blog/best-neighborhoods-in-houston/, I deep dive into all the different suburbs/neighborhoods that you might want to consider, and why. There are many resources here, so please reach out if you are curious what to look at next! Thank you for trusting us.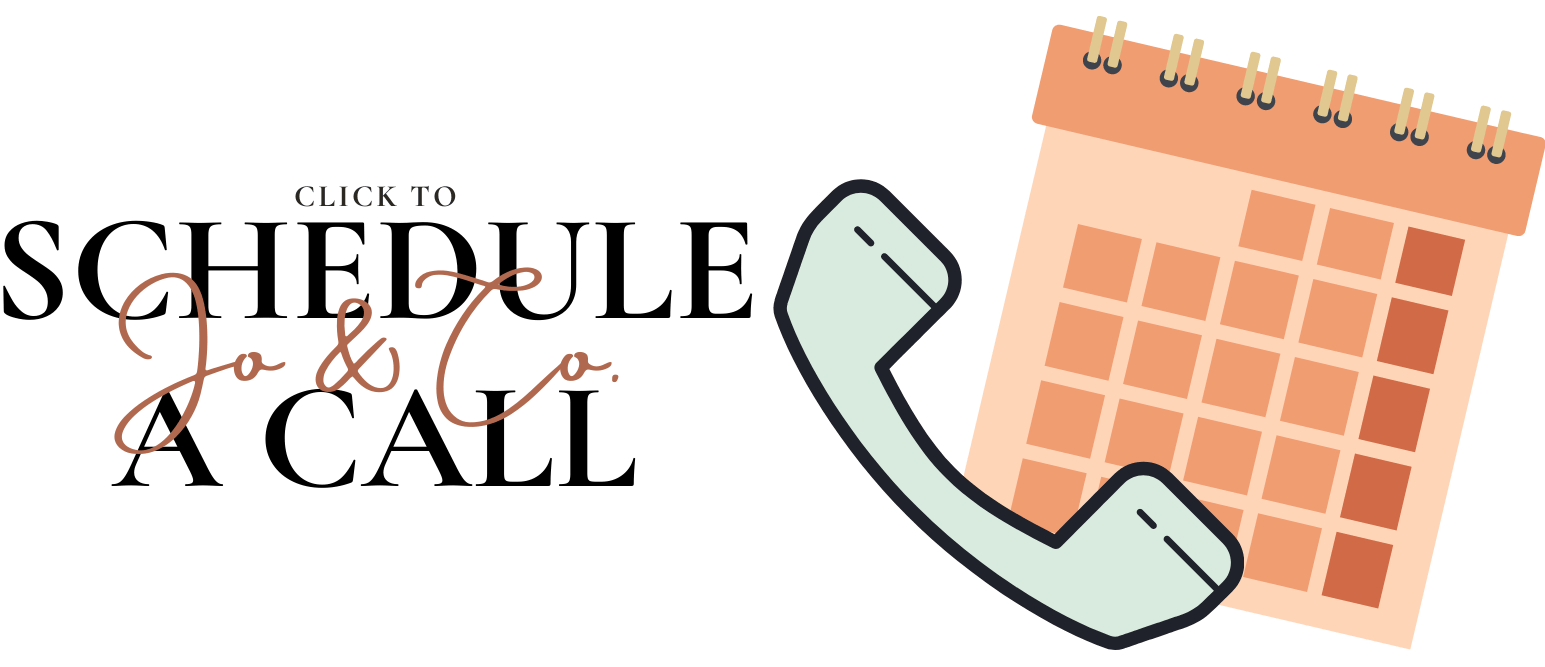 Links to check out..
➟ Our YouTube Channel :: http://byjoandco.com/youtube
➟ How do property taxes work in Texas? :: http://byjoandco.com/propertytaxesintexas
➟ Things to do in The Woodlands :: http://byjoandco.com/inthewoodlands
➟ Safest Neighborhoods in Houston :: http://byjoandco.com/safesthouston
➟ Best Neighborhoods in Houston :: http://byjoandco.com/bestneighborhoods
➟ Houston Texas Where to Live :: http://byjoandco.com/houstontexaswheretolive
➟ First Time Texas Home Buyer :: http://byjoandco.com/firsttimetexasbuyer
What next?!
• Download our Moving to Texas ebook! http://byjoandco.com/movingtotexasebook.
• Download our Where to Live in Houston Texas ebook! http://byjoandco.com/wheretoliveebook.
• Schedule a phone call or appointment with us! http://byjoandco.com/appointment.
• Email us! [email protected].
• Looking for a buyer's agent? Fill out our buyer questionnaire! http://byjoandco.com/q.
• Ready to find your dream home? Search, http://search.byjoandco.com.
• Subscribe to our YouTube Channel: http://byjoandco.com/youtube.

At Jo & Co. we know that most people struggle with the home buying or selling experience. We are a brokerage, real people, that do more for you, by being with you every step of the way, so that you plant your roots in the right soil. One way that we go above and beyond is with the content we share on YouTube. Click the photo below to explore our channel.