Hi friend! Thank you so much for stopping by. I am so excited to announce a brand new series, our First Time Home Buyer series. This series is for anyone that is looking to buy their first home. Whether you have the down payment saved and already picked your wallpaper patterns, or if you are still working on your credit score and have 700 questions that need answered, you are in the right place for answers and guidance. Let me be your go to, first by diving in and sharing some facts with you what I believe you should know as a first time home buyer.
→Our Ebook for this post was just launched. Get your copy here. ←
Our new video is at the end of the post!
1. Getting realtor guidance right away is insanely important.
Buying a home isn't like buying a car. You can't just surf the web, narrow it down to two or three options, check your Credit Karma, show up at the dealership, test drive your top picks, fill out an application, and drive home in your dream car. I compare it more to having a child. You wouldn't just pick anyone to procreate with. You would want someone you feel like you know, someone you can trust, someone who can make a decision, sometimes for you, with your best interest in mind, someone smart and intuitive, and so much more.
The cool thing about finding a realtor, especially since you are sitting here before me, reading this post, is that it isn't as hard as dating. As much as I want to preach to you, like you are a stranger, I know you are here, reading my words, so convincing you to not house hunt alone shouldn't be too hard. And it isn't that I don't think you should go at it without a realtor, it is, I don't think you should go at it with any ol' realtor.
There are over 43,000 licensed realtors in the "area", and as much as I don't want to poo on the industry, not all realtors are created equal. Not everyone knows the ins and outs of: the industry, home buying, home financing, negotiating, and  customer service. The right realtor, the good ones, they keep you protected. They make sure you don't overpay, buy a lemon, purchase a home that will never resale, purchase a home you won't regret, and so much more.
The good ones, are there for you every step of the way. Answering every single question on your mind and addressing all of your concerns. I do pride myself on being one of the good ones, so if you are local, and looking to buy or sell, please reach out.
2. Speaking with a lender should be your second step.
I am not saying you need to fill out an application and run your credit on day one, but I do want to make sure you get the complex financial questions answered that are more equipped for a lender. There might be some hiccups on your credit, that you know about, and can bring up with the lender, that might lead y'all down a certain path to repair those hiccups. And sometimes those hiccups take time. I would hate for you to find your dream home, just to discover, you actually can't purchase for 90 more days. I almost always recommend you get a lender recommendation from your realtor. You can find my top recommendation here.
3. Owning a home is typically less than renting a home.
Owning a home is typically less than renting a house or apartment. Let's say you live in a newly built apartment building on the outskirts of an established suburb, and you are renting a 3 bedroom 2 bathroom 1471 square foot apartment for $1849 a month plus $100 a month for a detached garage. This would calculate to $1949 a month or $23,388 a year. Now let's look at a home, similar in size, in the same zip code.
I found a 3 bedroom 2 bathroom 1642 square foot home with a swimming pool for $197,000, on street called Granite Gorge in 77379. If you decided to put down 5% for your home loan, and the purchase price was $195,000, you could expect to pay about $1515 a month depending on factors such as your credit, the cost of the home owners insurance you selected, and the cost of the property taxes. Tax rates and appraisal values differ from home to home. So your twelve month cost would be $18,180 per year, but keep in mind, you will be creating equity (increased value) in two ways: by paying down your principal and by the almost certain property value increases. When renting a home, all of that payment is essentially being thrown away.
So let me pull those numbers out: $1949 a month for rent or $1515 a month to own. What would you do with that extra $400 a month?
4. An ideal credit score when purchasing a home is 620 or higher, but..
There are many different types of loans and loan programs, with FHA requiring a minimum credit score of 580, and conventional loans requiring a minimum credit score of 620. But the truth is, most lenders prefer 600 or higher. The most cool thing about this is, credit scores are a bit pliable. My preferred lender, has a bit of artificial intelligence in the form of a credit simulator, that can tell you exactly what you need to do to obtain an optimal credit score based on your credit report.
Recommended Read: To purchase a home, what does my credit score need to be & how much do I need for a down payment? | Blog Post Link
5. You do not need to have a large down payment to purchase a home.
There are many programs out there to help assist with a down payment, and if you couple that with seller's closing cost assistance, you can purchase a home with as little as 1.5%. I explain many Texas options in this post here.
Recommended Read:  Purchasing a Home with Down Payment Assistance | Blog Post Link
6. A monthly mortgage payment is a bit complex, but it can be easily broken down.
There are lots of details you need to be sure to know up front about a home ownership mortgage payment. Let me go ahead and break down the makeup of that $1515 mortgage payment I mentioned above.
| | |
| --- | --- |
| Principal & Interest | $884.41 |
| Homeowners Insurance | $138.13 |
| Monthly Property Tax (Escrowed) | $348.00 |
| Private Mortgage Insurance (PMI) | $145.11 |
So obviously, the more money you have saved up for your down payment, the smaller your monthly payment will be. If you had 10% to put down, your monthly payment would drop from $1515 to 1415. If you had 20% saved up, you will no longer be required to pay PMI, and your payment would drop to $1231 a month.
Recommended Read: How to Calculate Your Monthly Mortgage Amount in Texas + Accurate Mortgage Calculator | Blog Post Link
7. New construction and homes in very new neighborhoods are almost always more expensive in comparison to resale homes in established neighborhoods.
Homes in new neighborhoods typically carry a higher tax rate, which translates to a higher monthly mortgage amount. For our next example, I am going to take the above home, Granite Gorge, which came with $4,176 yearly tax price tag (prior to any exemptions), and I am going to compare it to a home for sale on Stony Gap Lane in Fosters Ridge. The estimated tax cost for Stony Gap is $6,929 a year. Let me illustrate how this changes a monthly payment.
With a 5% down payment, Granite Gorge will cost you about $1515 a month and Fosters Ridge will cost you about $1745 a month. That is a $230 difference, for a house costing the same price. And the sole reason is a 2.5186 tax rate percentage versus a 3.4644 tax rate percentage. The best way I can show case this is to say, in neighborhood one, your price point would be $195k and neighborhood two, your price point would be $170,650 for that same $1515 monthly mortgage payment.
8. How much you can afford weighs heavily on the amount of rotating debt you have.
Almost more important than how much you make each year, is how much you spend each year. Sometimes a lender might recommend paying off a car payment or credit card to increase your approval amount. If you don't know how much you can afford, you can find my favorite resource here.
9. Before you can figure out what you want, you need to start with your goals and why.
This one might seem a little bit confusing, but to figure out what you want, it is important to look at your goals and purpose. Let's say you only want to own your first home for 3 years, then rent it out, and purchase a larger home. You would want to be sure to purchase a home in a neighborhood with the best rental income potential. Let's say you want to pay off your home as fast as possible, you would want to make sure the tax rate is low. Let's say you plan to have two children in the next four years, but you want to purchase a house to call home, for the next 10 years; then you would want to make sure you purchase a home with enough bedrooms. Let's say your parents are elderly, and they come to visit every month, you would want to make sure there was a second bedroom with its own bathroom downstairs. The examples are endless, but I think you get the picture.
10. Be realistic, and hire a realtor you trust.
Be realistic in purchasing your first home. You might not get everything on your wants list, but a good realtor will make sure you get everything on your needs list. Remember this isn't their first rodeo, and you hired them to guide you, so please follow their guidance. If something they are saying or doing seems "off", talk with peers or family members who have experience purchasing homes. Being realistic, and hiring a realtor you trust, truly are important to contributing to a positive first time home buying experience.
11. Download a good home search app.
I personally only recommend using the local HAR app. It is the most accurate and up to date, since it is connected directly to the MLS (our local database). After you download it, click this link, and that will connect us. I can make suggestions to you through the app, we can communicate about each home within the app with the home attached to the conversation, you can also make folders to categorize your favorites ("Must See ASAP", "Back Ups", or "Appointments for Sunday" are common ways to use the folder system), and most importantly, using the app (while connected to a local realtor) gives you access to premium data, not available on the public version.
---
First Time Home Buyer Video
Covering Everything You Need to Know!
---
I hope you have found this post beneficial!
We are so happy you found our little corner of the interwebs. We look forward to y'all reaching out to us. We love to answer questions and welcome them. Recently we created some local maps, and you can download those by clicking the image/link above. Below, you will find an index of some very helpful information to assist you in learning more about the Houston suburbs. If you are relocating to our neck of the woods, we hope you reach out to us, because we would love to help you by being your local realtor and friend. Hugs, Jo.
Thoughtfully written for you by Jordan and the Jo & Co. Team.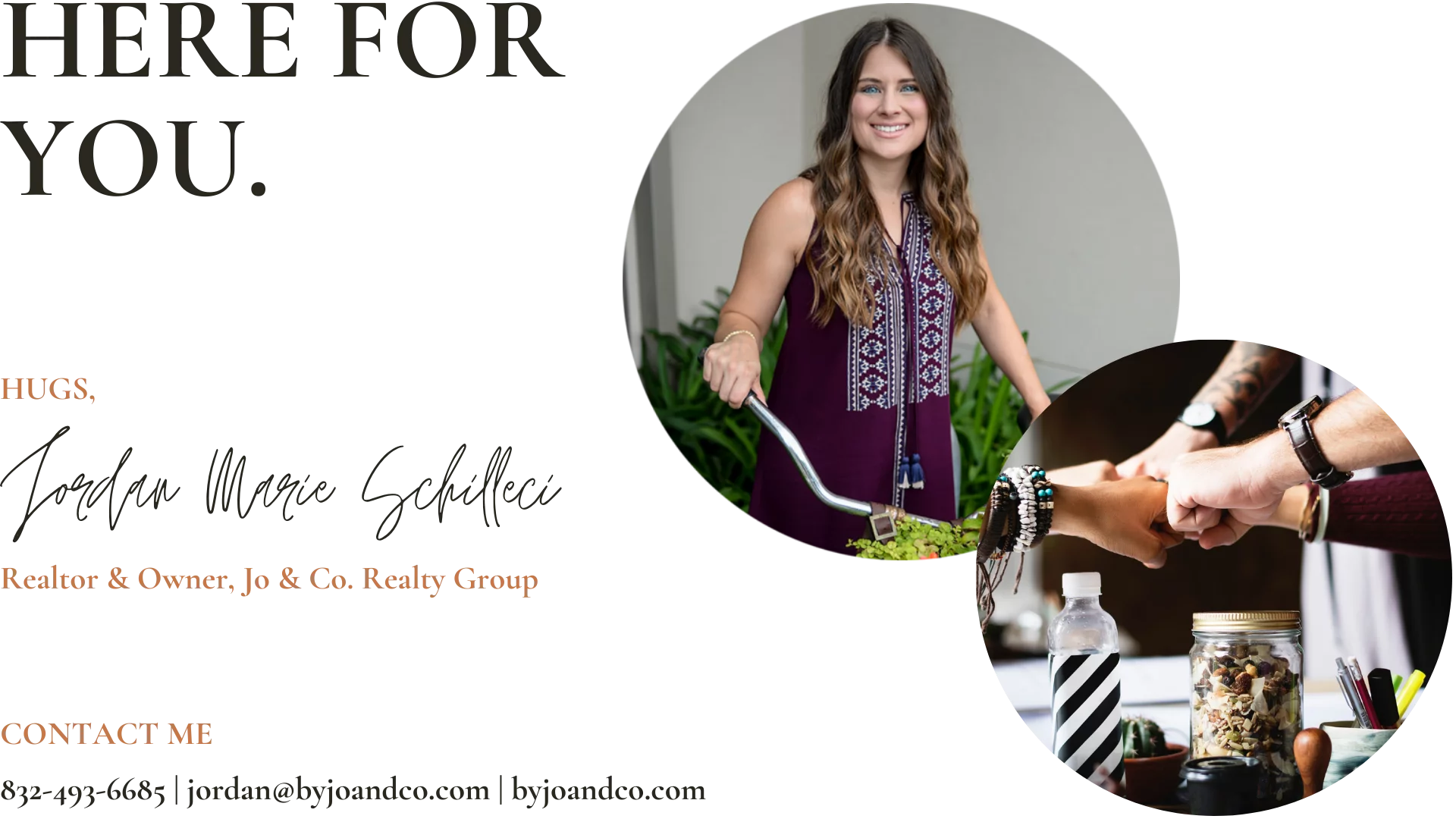 We are Waiting for You
If you are looking to relocate to the Houston Area, we would love to meet you, and hear your story. Below you will find all of my contact information, as well as some homes for sale in the area. We truly look forward to hearing from you! P.S. Don't forget to check out our YouTube Channel!

If you are overwhelmed..
Now if you are feeling overwhelmed on where you should plant your roots, I would love to talk to you. You can schedule a call with me by click this link: http://byjoandco.com/call or just send us an email: [email protected]. There are some amazing communities all over the Houston suburbs. In this post, https://search.byjoandco.com/blog/best-neighborhoods-in-houston/, I deep dive into all the different suburbs/neighborhoods that you might want to consider, and why. There are many resources here, so please reach out if you are curious what to look at next! Thank you for trusting us.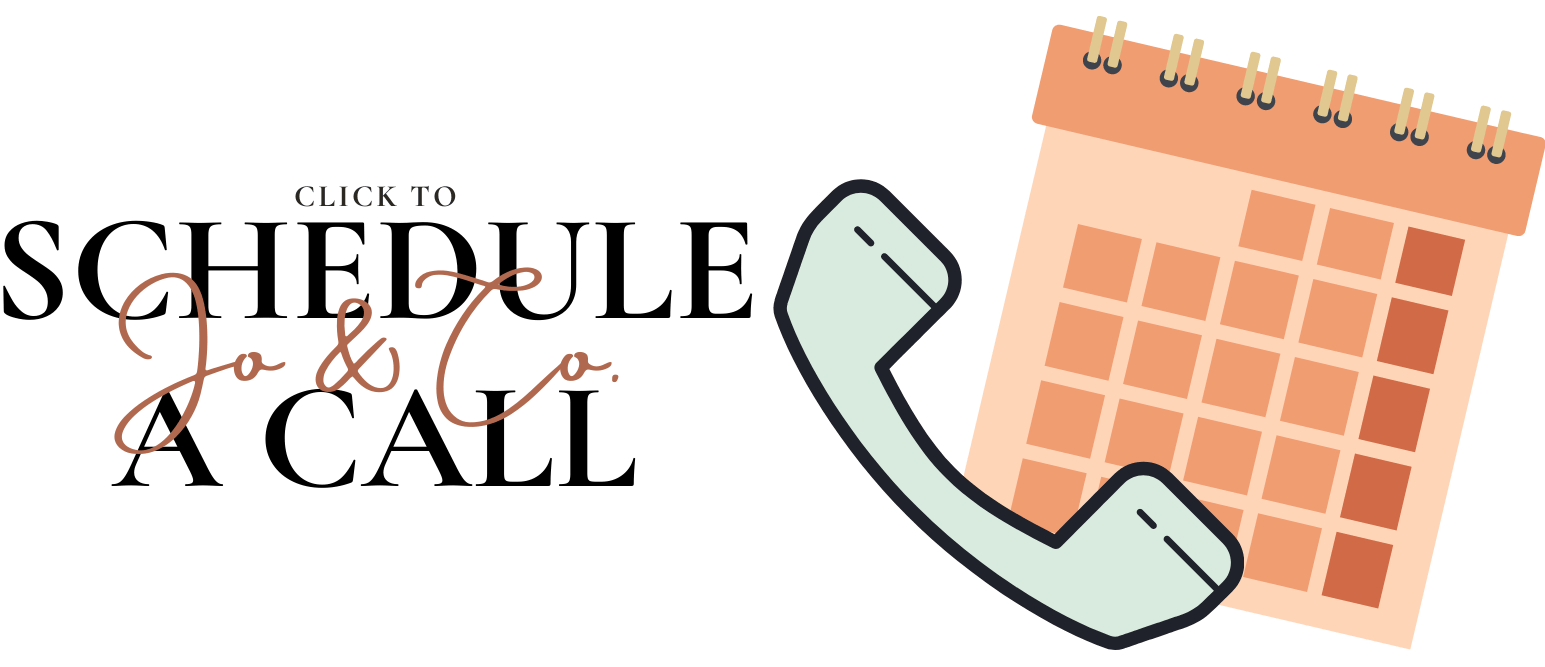 Links to check out..
➟ Our YouTube Channel :: http://byjoandco.com/youtube
➟ How do property taxes work in Texas? :: http://byjoandco.com/propertytaxesintexas
➟ Things to do in The Woodlands :: http://byjoandco.com/inthewoodlands
➟ Safest Neighborhoods in Houston :: http://byjoandco.com/safesthouston
➟ Best Neighborhoods in Houston :: http://byjoandco.com/bestneighborhoods
➟ Houston Texas Where to Live :: http://byjoandco.com/houstontexaswheretolive
➟ First Time Texas Home Buyer :: http://byjoandco.com/firsttimetexasbuyer
What next?!
• Download our Moving to Texas ebook! http://byjoandco.com/movingtotexasebook.
• Download our Where to Live in Houston Texas ebook! http://byjoandco.com/wheretoliveebook.
• Schedule a phone call or appointment with us! http://byjoandco.com/appointment.
• Email us! [email protected].
• Looking for a buyer's agent? Fill out our buyer questionnaire! http://byjoandco.com/q.
• Ready to find your dream home? Search, http://search.byjoandco.com.
• Subscribe to our YouTube Channel: http://byjoandco.com/youtube.

At Jo & Co. we know that most people struggle with the home buying or selling experience. We are a brokerage, real people, that do more for you, by being with you every step of the way, so that you plant your roots in the right soil. One way that we go above and beyond is with the content we share on YouTube. Click the photo below to explore our channel.