Hi friends!
One of my most favorite things to calculate for my clients is their projected monthly mortgage. I have been doing do this for years, and I am very confident in my knowledge around monthly budgets and home purchase prices. Most of my clients are moving here from out-of-state, and I have learned that there is a drastic difference between the way our property taxes work here versus other states. This just means, ours are usually a lot higher than other states. But I am fast to remind them, that we do not have state income tax here in Texas.
Mortgage Payment Breakdown
If you are a first time home buyer, you might not know what makes up your monthly mortgage. You mortgage payment is typically broken down like this:
Principal (This amount is directly contributed to your loan balance each month.)
Interest (This amount is collected by the bank as a fee for the loan, so in short, this is how the bank makes their money.)
Taxes* (Each property is tax assessed by the county, and you will pay taxes to different entities of your community. Taxes differ by neighborhood, section, and something even address within. I will go into greater detail on taxes shortly.)
Insurance* (When you finance a home, the lender/bank will require you to carry and pay for home owner's insurance. Policies cover you and the lender just incase the home is destroyed. Flood insurance is a separate policy, and it is advised you carry this as well, yet it is only required if you live in a flood plain. Even if you are a cash purchaser, it is intelligent to carry insurance for those "what ifs".)
Private Mortgage Insurance (This is also referred to by its acronym, PMI. This is a separate insurance policy the bank requires. It is a lender's protection in the instance that you default on your primary mortgage and the home goes into foreclosure. They would take your home, and sell it, but this insurance is to insure that they recover all of their loses, past just the profit from the home sell. PMI is present on FHA loans and loans where you cannot put down at least 20% as your down payment.)
Home Owners Association (This is a yearly, quarterly or monthly fee that is paid to the home owners association. It is not escrowed like the taxes and insurance, but it is used in calculation when it comes to finding out what you can afford.)
*One thing to note, is that insurance and taxes are typically escrowed into a bank account, and the bank will pay them for you once the bills become available. The taxes are paid in arrears, and the insurance is paid upfront, typically in six month increments. You will be required to prepay a portion of these for the year, as part of your closing costs.
More on Taxes
I wanted to take a moment to dig a bit deeper on property taxes. Here in the slideshow below, I will be featuring four homes for sell in the area, the address and neighborhood isn't so important, but what I want you to reflect on is the tax rate and what makes up those numbers.
Above, you can see that the "Jurisdiction" column identifies who each tax rate belongs to. You will see the school district (Conroe ISD or Klein ISD (This was just voted on, and a change to 1.36 was approved.)), Emergency Service Districts, County Hospitals or County Tax, Mud (this tax rate typically drives one neighborhood to be higher than one another, until the bond that supports the Mud is paid down. The Mud bond is responsible for brining the water and sewage into an area.),  Lone Star College, and The Woodlands Township (think HOA for The Woodlands), among some others.
Something else to note, is that even though a home is for sale for $400,000, this typically has no bearing or relevance to the tax assessed value. A tax assessed value is different than a market value. The tax assessed value is determined by the county, and there are lots of opinions on these values. The market value is actually what a buyer is willing to pay for a particular home. The asking price might be higher or lower than the assessed value and the same goes for the actual market value. Now there is the tax appraisal value, which is a private appraisal done by your lender, to determine how much they value your home to be. This ends up being a very important number, due to the fact that they won't lend you more money "than the home is worth". When this issue arises, there are a handful of options to come a resolution, so please don't let this be a fear of yours.
It is very important to fight your tax assessed value each year, to prevent your property value from getting out of control. It is a very simple process, and you typically can do it all online. Most people just go through a couple steps, and get a resolution. Others fight it in person, and bring evidence with them to support the value they believe their home should be worth. It really is simpler than it sounds, and if you need any assistance, please reach out. Almost on a weekly basis, I prepare evidence for a current (or future) client.
A Key Takeaway On Taxes
One key takeaway, I would like to keep in mind is that (typically) the newer the home, the newer the MUD (municipal utility district), causing the taxes to be high. The higher the taxes, the less home you will qualify for. So in a neighborhood where the tax rate is 2.2%, you might qualify for $300,000, but in a neighborhood with a tax rate of 3.4%, you might only qualify for $275,000. So please when figuring out your home budget, know what your monthly budget is, not just a purchase price budget. Another thing to note, is that your "extra" money is going towards taxes instead of paying down your principal.
Mortgage Calculator
Using this very accurate mortgage calculator, you can determine what your monthly mortgage amount will be. The average cost for home owner's insurance typically falls between .75% and 1% of the home's purchase price. So to do things quickly, if you are looking at a $300,000, you would just put $3000 for the home owners insurance. For PMI, you can put $100-$150. Here is a link to a PMI calculator if you would like extreme accuracy in your final number. Credit has a factor on PMI, among other things. For property tax, you can find this number on the MLS. Keep in mind these numbers are without exemptions. To learn about homestead exemptions, click here. If you need help figuring out what you qualify for, here is a good resource.
Your total monthly payment
We are so happy you found our little corner of the interwebs. We look forward to y'all reaching out to us. We love to answer questions and welcome them. Recently we created some local maps, and you can download those by clicking the image/link above. Below, you will find an index of some very helpful information to assist you in learning more about the Houston suburbs. If you are relocating to our neck of the woods, we hope you reach out to us, because we would love to help you by being your local realtor and friend. Hugs, Jo.
Thoughtfully written for you by Jordan and the Jo & Co. Team.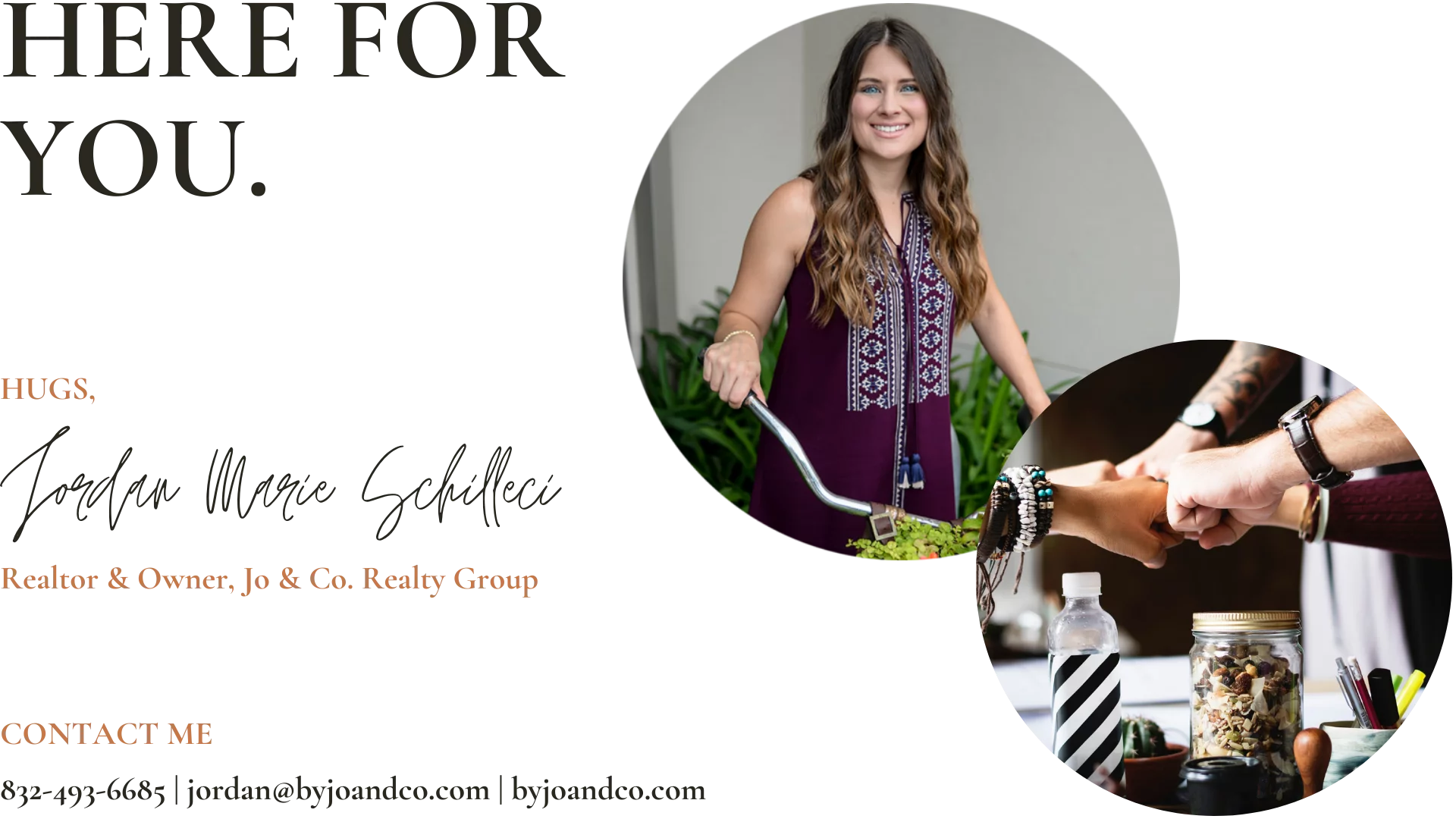 We are Waiting for You
If you are looking to relocate to the Houston Area, we would love to meet you, and hear your story. Below you will find all of my contact information, as well as some homes for sale in the area. We truly look forward to hearing from you! P.S. Don't forget to check out our YouTube Channel!

If you are overwhelmed..
Now if you are feeling overwhelmed on where you should plant your roots, I would love to talk to you. You can schedule a call with me by click this link: http://byjoandco.com/call or just send us an email: [email protected]. There are some amazing communities all over the Houston suburbs. In this post, https://search.byjoandco.com/blog/best-neighborhoods-in-houston/, I deep dive into all the different suburbs/neighborhoods that you might want to consider, and why. There are many resources here, so please reach out if you are curious what to look at next! Thank you for trusting us.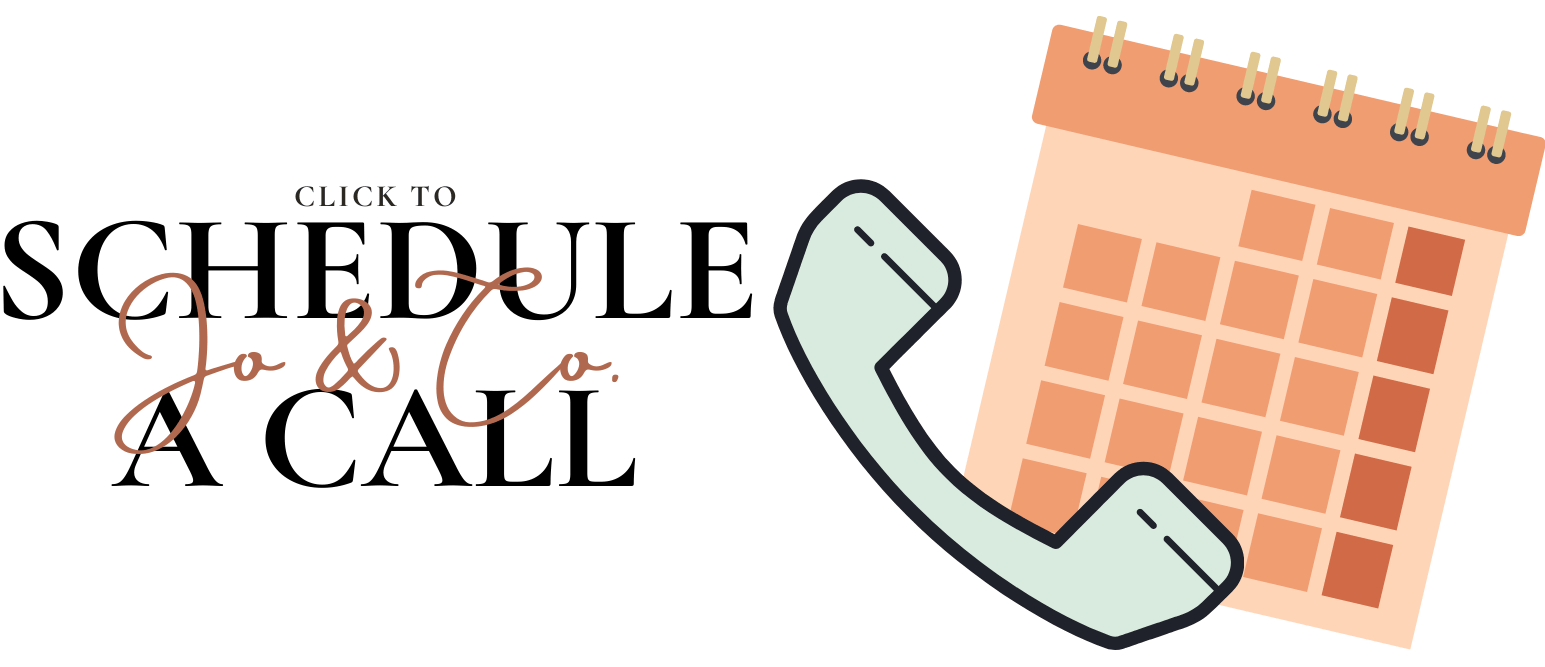 Links to check out..
➟ Our YouTube Channel :: http://byjoandco.com/youtube
➟ How do property taxes work in Texas? :: http://byjoandco.com/propertytaxesintexas
➟ Things to do in The Woodlands :: http://byjoandco.com/inthewoodlands
➟ Safest Neighborhoods in Houston :: http://byjoandco.com/safesthouston
➟ Best Neighborhoods in Houston :: http://byjoandco.com/bestneighborhoods
➟ Houston Texas Where to Live :: http://byjoandco.com/houstontexaswheretolive
➟ First Time Texas Home Buyer :: http://byjoandco.com/firsttimetexasbuyer
What next?!
• Download our Moving to Texas ebook! http://byjoandco.com/movingtotexasebook.
• Download our Where to Live in Houston Texas ebook! http://byjoandco.com/wheretoliveebook.
• Schedule a phone call or appointment with us! http://byjoandco.com/appointment.
• Email us! [email protected].
• Looking for a buyer's agent? Fill out our buyer questionnaire! http://byjoandco.com/q.
• Ready to find your dream home? Search, http://search.byjoandco.com.
• Subscribe to our YouTube Channel: http://byjoandco.com/youtube.

At Jo & Co. we know that most people struggle with the home buying or selling experience. We are a brokerage, real people, that do more for you, by being with you every step of the way, so that you plant your roots in the right soil. One way that we go above and beyond is with the content we share on YouTube. Click the photo below to explore our channel.