Hi again!
There are many suburbs outside of Houston. I recently did a lot of research focusing on the most popular neighborhoods according to recent sales, and I created the blog post, Top 40 Most Popular Neighborhoods | Relocating to the Houston Area Series. Although The Woodlands topped the list at number one, I still believe The Woodlands is Houston's best kept secret, but because of its demand and desire, I would like to update the sentence to state, "The Woodlands is Houston's best kept secret, if you can afford it." The property values really have risen a lot over the past 5-10 years. But if The Woodlands doesn't fit your budget, there are many options.
The Woodlands is in close proximity to many master planned communities, who are riding on "The Woodlands" wave. It isn't just The Woodlands that is trying to be sold these days, but "The Woodlands Area". You can find a complete list of the Most Popular New Construction Neighborhoods in Conroe, TX by clicking here and another list, which happens to be one of our most popular, The Best Neighborhoods to Live in To Let Kids Be Kids, by clicking here.
If you are looking for new construction, near The Woodlands and its amenities, I would recommend:
The Woodlands :: A community to work in.
I truly think The Woodlands is still a secret, because it isn't just a community to live, but a master planned community, one in which you can live, work, and play. The Woodlands was developed with this at its core. The Woodlands is home to employers such as Anadarko (Occidental), Hewitt Associates, Baker Hughes, ExxonMobile, CB&I, Halliburton, Huntsman, the Woodforest headquarters, Chevron Phillips, McKesson, Entergy Texas, and so many more major companies. You can find a list of the top 30 employers in The Woodlands here. Even a quick search on Indeed.com reveals 1,662 jobs positions needing to be filled.
The two largest employers of The Woodlands is the Conroe Independent School District and the local hospitals. Conroe ISD was home to 3,759 employees and the four local hospitals: Memorial Hermann, St. Luke's, Houston Methodist, and Texas Children's employ a combined total of 5,291 employees, while Exxon Mobile is home to 1,800 jobs and Anadarko is home to 1,686 jobs.
It would be silly to think all the people that live in The Woodlands work there and vice versa though. During my research, I came across a Houston Chronicle article from June 2015 (wow, how time flies), that talked about the reverse commute many are making into The Woodlands. It was quite interesting, and I am placing the link here, if you would like to take a read.
But as a recent Houston Chronicle article from a few days back stated,
With population growth has come economic growth. Houston's surrounding areas are undergoing a transition from bedroom communities to economic centers, getting both wealthier and more diverse as highly-skilled immigrants leave the central city on the promise that achieving their American dreams might be a little easier in the suburbs.
The Woodlands :: A community to play in.
The night life and entertainment in The Woodlands is around every corner. The Cynthia Woods Mitchell Pavilion is the heart and soul of the entertainment in The Woodlands, and the surrounding community.  The Pavilion presents between 50 and 65 events every March through December, ranging in style from rock to classical, jazz to country, and modern opera to contemporary American ballet.
The nightlife goes beyond the pavilion. The commercial developments along the water provide for entertainment and places to gather. The Waterway is home to Bar Louie, Crush Wine Lounge, Baker St. Pub & Grill, Como Social Club, and The Goose's Acre, among many unique restaurants such as: Sorriso Modern Italian Kitchen, Cyclone Anaya's Tex-Mex Kitchen, Grimaldi's Pizzeria, Churrascos, Nick's Fish Dive & Oyster Bar, Cureight, and Morton's Grille.
The newest development at the water's edge, Hughes Landing, is also referred to as Restaurant Row. Restaurant Row houses many types of establishments including these popular restaurants: Truluck's, Escalante's Fine Tex-Mex & Tequila, Broken Barrel, Fogo de Chão Brazilian Steakhouse, Del Frisco's Grille, The Blue Fish, and California Pizza Kitchen at Woodlands.
If you are looking for the ultimate family friendly spot, then check out the green, Central Park, at the center of Market Street. It was renovated back in April, and houses pergolas for entertaining, green space for activities and events, as well as a splash pad for kids to enjoy! What I love most about the green, are the yard games during the warm months, and the Christmas tree during the winter holiday! The fine dining options you will find around Market Street include: CRÚ – FOOD AND WINE BAR, Grotto, Jasper's Gourmet Backyard Cuisine, Schilleci's New Orlean Kitchen, Tommy Bahama Restaurant and Bar, Uni Sushi, and True Food Kitchen.
The Woodlands :: A community to live in.
So obviously The Woodlands was created with residence as it ultimate first purpose. What is unique about The Woodlands is that it was created with all people in mind, in all stages of their life. In The Woodlands, you will find townhomes, brown stones, apartments, row homes, condos, starter homes, mansions, homes on the water, homes on the golf course, and everything in between. The homes start in the $240s.
The Woodlands was founded as a master planned community in 1974 by George Mitchell. It has grown to encompass 25,000 acres with 110,000 residents. During its development, it was developed in villages. The purpose of the villages was to promote a sense of community found in small towns, where neighbors knew one another. Each village has its schools, supermarket, retail shops, parks, open spaces, churches, and so much more. Each village is a thread of The Woodlands community. Below you can see my favorite map of The Woodlands. | You can download the whole map here.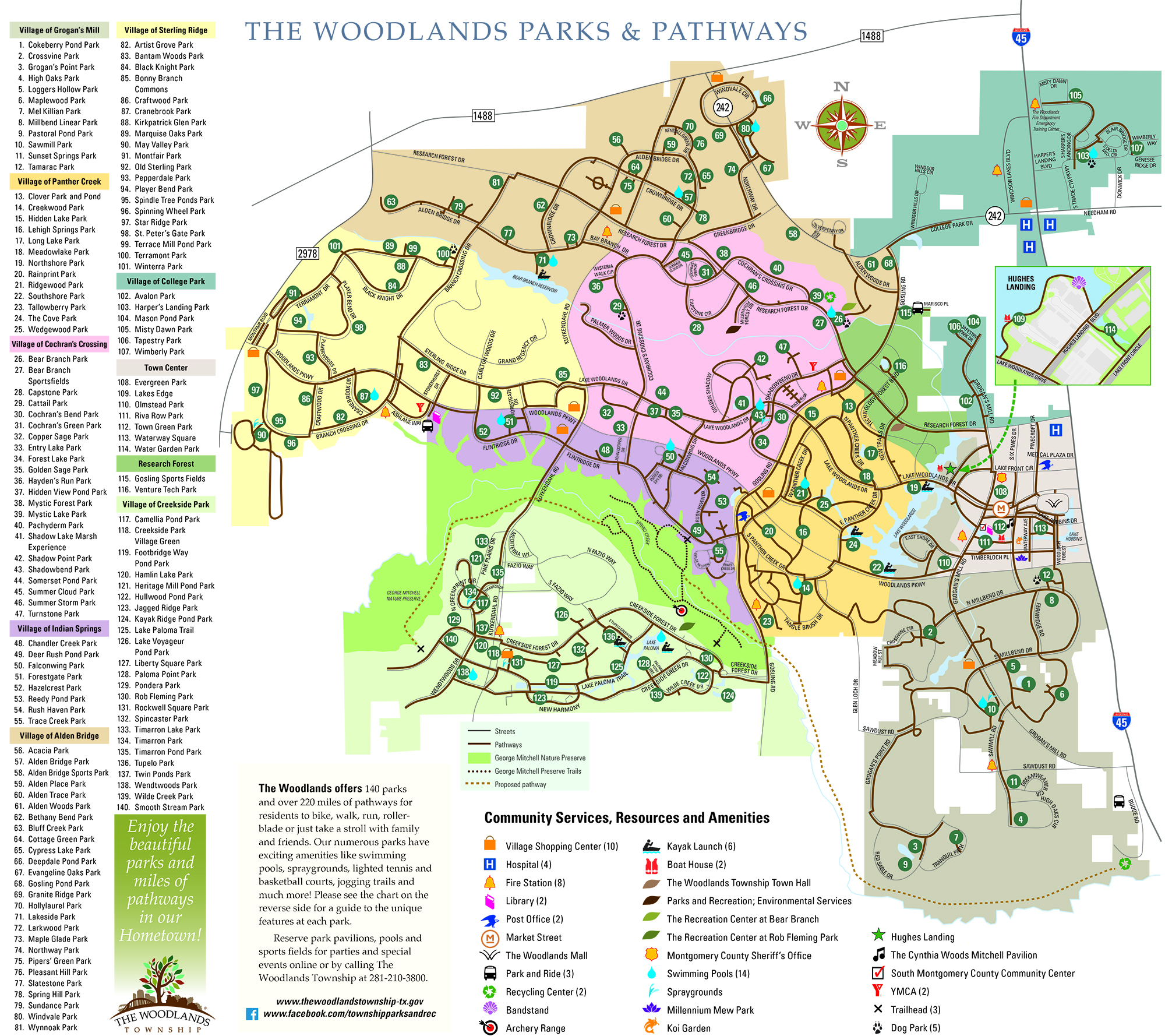 One thing to note, is that the villages are also broken into enclaves, but most of enclaves are just pretty signs at the entrance of a particular section, that help people not get lost, and originally, really helped the new home sales people who sold The Woodlands those years ago.
In 1974 the first village, Village of Grogan's Mill opened. In 1976, the second village, Village of Panther Creek opened. In 1983, The Village of Cochran's Crossing opened. In 1984, The Village of Indian Springs opened. In 1995, The Village of Alden Bridge opened. The sixth village to open was Sterling Ridge in 1999. The Village of College Park followed. In 2007, The Village of Creekside Park opened. It was the final village, and is the only village to not reside in Montgomery county, but in Harris county. This village houses the prestigious gated enclave: "Carlton Woods" at Creekside and The Club at Carlton Woods, which has two golf courses.
The Woodlands :: A community to educate within.
Okay, so I created this one. "Live, work, and play" were a part of the original mission, and education was an integral part of The Woodland's purpose and master plan, but I would like to say stress The Woodlands is a place you can "live, work, play, and educate." The Woodlands is not only a highly sought after area because of Conroe ISD, and the recognition they have received in the last 9+ years, but also its continuing education.
Let me go ahead and point out The schools that received an A rating from from the Texas Education Agency while we are here. These elementary schools: Birnham Woods, Broadway, Buckalew, Bush, the two Tomball ISD elementary schools in Creekside, David, Deretchin, Galatas, Kaufman, Powell, Ride, Snyder, Stewart, and Tough. These "middle" schools: Clark Int., Collins Int., Knox JH, McCullough JH, Mitchell Int, and York JH. And these high schools: College Park, Grand Oaks, and The Woodlands.
But by continuing education, I am really pointing my finger at our enormous system of college. The Village of College Park was built with Lone Star College – Montgomery at its heart. George Mitchell went so far as donating 10 acres of land, valued at $2 million in 1998 so that community college graduates could earn their bachelors' degree with the establishment of the University Center! There are currently over 15,000 students enrolled this fall at Lone Star College in The Woodlands.
What I love about The Woodlands..
So I wanted to conclude this post with what I love about The Woodlands. What I love most about The Woodlands, is the lake, the beautiful homes, and the pathways. The connectivity that The Woodlands offers is something I crave to enjoy each day. The waterway being my most favorite amenity, I love sitting along the water's edge with a good book and a yoga mat. I love stopping to stare at the art almost secretly placed through out The Woodlands. It is always waiting to surprise you. And I love kayaking on the lake or popping into the library next to the Water Way.
I think the main reason The Woodlands is Houston's best kept secret, is that you don't know what it has to offer until you stop and enjoy it. Until you live here. You don't know how amazing it is, until you spend a day "off from work" exploring the community. I recommend this to everyone every 3-6 months. The Woodlands connects you with nature. The Woodlands is the nature. You can spend your day working (showing houses for me or maybe a pile of paperwork), then change into gym clothes and hit a local cycle bar, then pop on down the road to pick up to-go food, and your kids on the way home. It really does have everything to offer. Everything and more.
So if you are thinking about relocating to The Woodlands, I would love to be your realtor and tour guide. And be sure to check out my latest blog post, Moving to The Woodlands – What You Should Know.
I hope this post has been beneficial in helping you make your decision to move to The Woodlands. I created a relocation guide for The Woodlands, that I would love to share with you. You can see the post, complete with video, and link to e-book by following this link here.
We are so happy you found our little corner of the interwebs. We look forward to y'all reaching out to us. We love to answer questions and welcome them. Recently we created some local maps, and you can download those by clicking the image/link above. Below, you will find an index of some very helpful information to assist you in learning more about the Houston suburbs. If you are relocating to our neck of the woods, we hope you reach out to us, because we would love to help you by being your local realtor and friend. Hugs, Jo.
Thoughtfully written for you by Jordan and the Jo & Co. Team.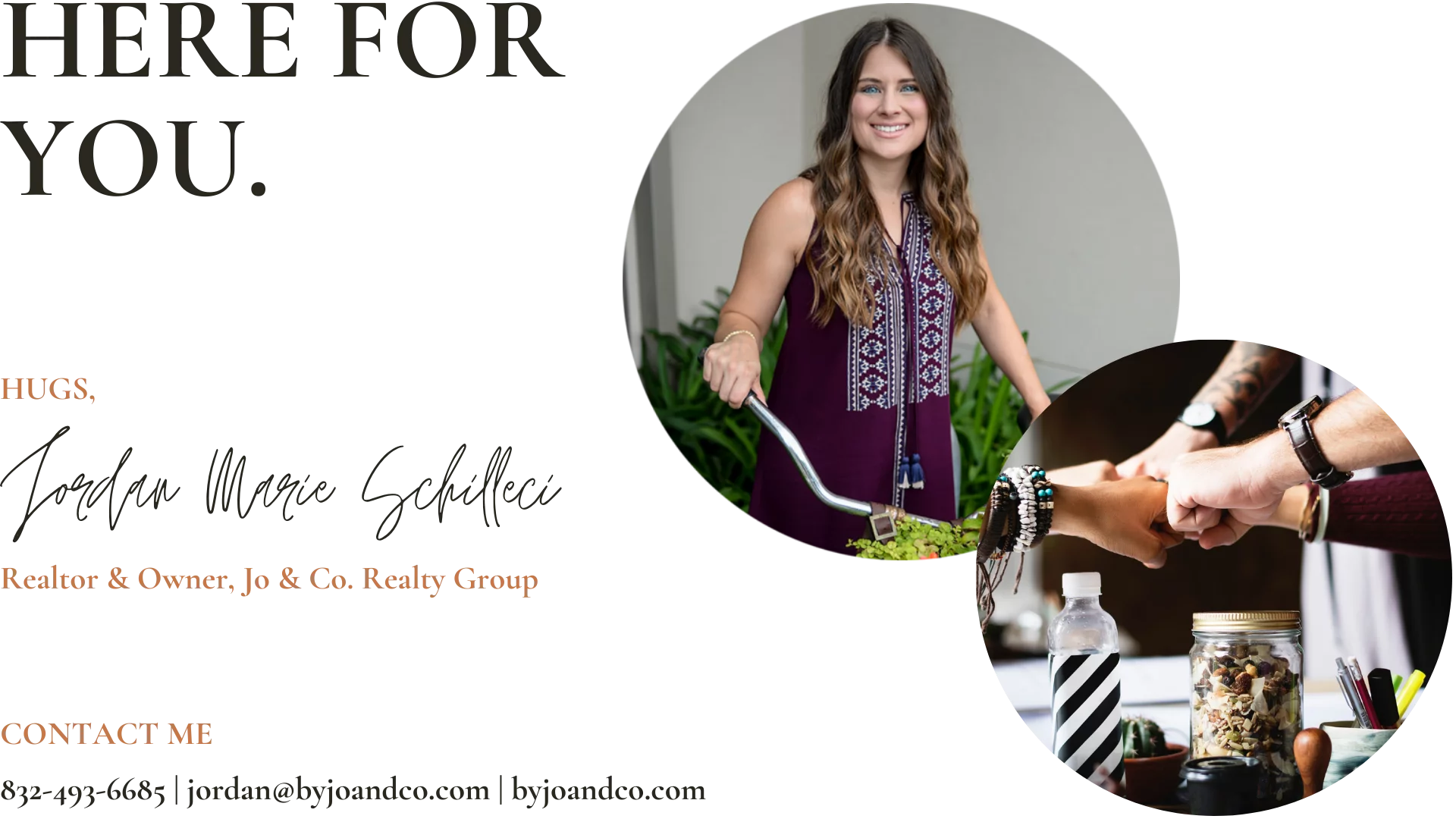 We are Waiting for You
If you are looking to relocate to the Houston Area, we would love to meet you, and hear your story. Below you will find all of my contact information, as well as some homes for sale in the area. We truly look forward to hearing from you! P.S. Don't forget to check out our YouTube Channel!

If you are overwhelmed..
Now if you are feeling overwhelmed on where you should plant your roots, I would love to talk to you. You can schedule a call with me by click this link: http://byjoandco.com/call or just send us an email: [email protected]. There are some amazing communities all over the Houston suburbs. In this post, https://search.byjoandco.com/blog/best-neighborhoods-in-houston/, I deep dive into all the different suburbs/neighborhoods that you might want to consider, and why. There are many resources here, so please reach out if you are curious what to look at next! Thank you for trusting us.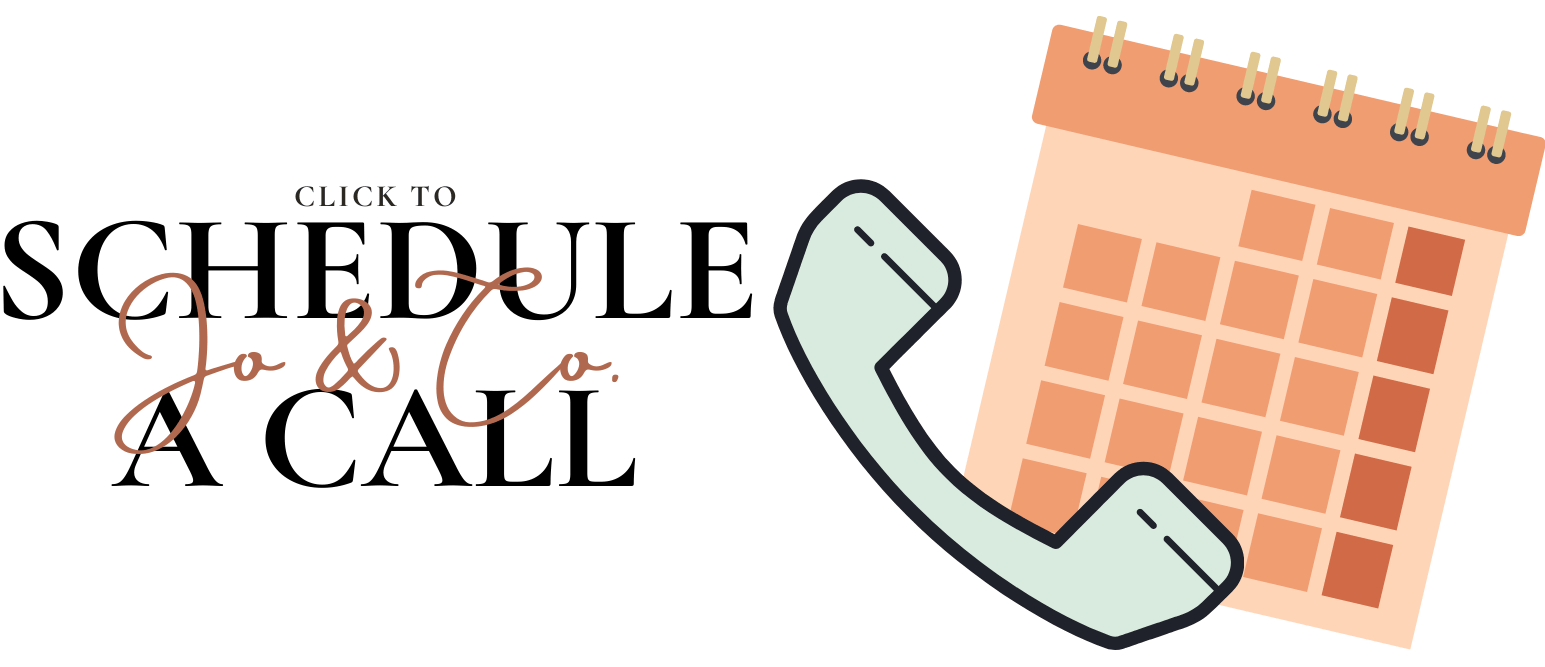 Links to check out..
➟ Our YouTube Channel :: http://byjoandco.com/youtube
➟ How do property taxes work in Texas? :: http://byjoandco.com/propertytaxesintexas
➟ Things to do in The Woodlands :: http://byjoandco.com/inthewoodlands
➟ Safest Neighborhoods in Houston :: http://byjoandco.com/safesthouston
➟ Best Neighborhoods in Houston :: http://byjoandco.com/bestneighborhoods
➟ Houston Texas Where to Live :: http://byjoandco.com/houstontexaswheretolive
➟ First Time Texas Home Buyer :: http://byjoandco.com/firsttimetexasbuyer
What next?!
• Download our Moving to Texas ebook! http://byjoandco.com/movingtotexasebook.
• Download our Where to Live in Houston Texas ebook! http://byjoandco.com/wheretoliveebook.
• Schedule a phone call or appointment with us! http://byjoandco.com/appointment.
• Email us! [email protected].
• Looking for a buyer's agent? Fill out our buyer questionnaire! http://byjoandco.com/q.
• Ready to find your dream home? Search, http://search.byjoandco.com.
• Subscribe to our YouTube Channel: http://byjoandco.com/youtube.

At Jo & Co. we know that most people struggle with the home buying or selling experience. We are a brokerage, real people, that do more for you, by being with you every step of the way, so that you plant your roots in the right soil. One way that we go above and beyond is with the content we share on YouTube. Click the photo below to explore our channel.