The rain water from a handful of neighborhoods rushes by in Theiss Gully at the edge of our property. The sounds beats like a drum never letting us forget its presence. The water drips down our fire place and mantle allowing us to see the brick's true color. The local ambulance and fire station down the street keep us alert to the constant thought that there are others worse off than us.
We have ventured out along a couple roads and splashed through high and low water "puddles". We have visited the local grocery story and hardware store. We have seen many turned away as they close their doors for business. We have seen days and days of the infamous empty water and bread isles. I have seen flooded streets and overflowing lakes.
I scroll through Facebook to see the worst. I have heard the horror stories of those trapped in their home, of the young man who drown in a ditch, and the many others stranded without electricity or heard of those low on food. These stories grow in number. My heart goes out to everyone who has lost something or someone.
You can't turn your head. You can't shut your door. You have to help these people with open arms. But how? That is what I have been thinking about all day today. Read below to find out how others are making a difference with their time, energy, and money..
Faithbridge
Faithbridge, the Klein church, has opened its doors to those without a dry place to stay. They are expecting 600 people to take shutter within its walls. Faithbridge accepting donations for baby diapers, sleeping bags, blankets, and phone chargers. Find more online at faithbridge.com/harvey. Update: Please take donations to Klein Oak (no times listed) and Frank Elementary (Tues 9-12). Faithbridge currently has all the donations it can distribute.
18000 Stuebner Airline Rd, Spring, TX 77379
(281) 320-7588
www.faithbridge.org
St. Mary's Episcopal Church
St. Mary's will re-open our temporary shelter by 9am tomorrow morning (Tuesday, Aug. 29).
We will remain open until dark, serving as a temporary refuge for neighbors awaiting transportation to a permanent shelter.
AT THIS TIME, NO ADDITIONAL DONATIONS ARE NEEDED.
15415 N Eldridge Pkwy Cypress, Texas, TX 77429 | (281) 370-8000
Spring-Woodlands Ministries
Operational Hours for this week.
Wednesday 9:00 a.m. – 5:00 p.m.
Thursday 9:00 a.m. – 5:00 p.m.
Friday 9:00 a.m. – 5:00 p.m.
SWM needs your help to assist our neighbors.
Volunteers needed!!
The Food Pantry needs:
• Non-Perishable Food
• Snacks
• Canned Fruit
• Flip-Top Lids Items such as Spaghetti, Tuna, Canned Meats
• Water, Juices, Gatorade
• Cleaning Items
• Fuel Gift Cards
• Monetary Donations – https://www.springwoodlandsministries.org/ (PayPal Button)
Donations may be dropped off at 810 East Louetta Rd., Spring 77373
this Wednesday thru Friday, 9:00 a.m. – 5:00 p.m.
Mary of Hearts Reaching Out
She has been donating food to those in need, including many of the first responders in the Klein area. She is accepting food and cash donations through out the storm and flooding. You can contact her on Facebook. Update: Also accepting blankets, first aid supplies, diapers, etc..
The Woodlands United Methodist Church
Accepting donations to deliver to area shelters from 9 a.m.-5 p.m.
Bring items to the main entrance:
• Toiletries
• Pillows
• Light blankets
• New shoes
• New socks
2200 Lake Woodlands Drive, The Woodlands
281-297-5900
www.thewoodlandsumc.org 
The Goddard School of Tomball
Accepting donations Monday thru Friday 9 AM to 5 PM. Cots, air mattresses, new pillows, blankets, towels, wheel chairs, clothing, shoes, water, toiletries, and elderly & infant necessities. 
8522 Princeton Place Drive, Tomball, TX 77375 | 281-516-2111
Landry's Seafood House & Melanie Bush
Conroe ISD board president Melanie Bush will be hosting a food and clothing drive Aug. 31 from 5-8 p.m. in the parking lot:
• Non-perishable food items
• New underwear for children and adults
• New socks for children and adults
• New shoes for children and adults
1212 Lake Robbins Drive, The Woodlands
281-362-9696
www.landrysseafood.com 
St. Anthony of Padua
Accepting donations at the St. Teresa Center to deliver to local shelters:
• Diapers
• Baby food
• Wipes
• Cleaning supplies
• Bottled water
• Non-perishable food
• Protein meals (canned spaghetti, etc.)
• Peanut butter
• Rice
• Beans
• Cereal
• Crackers
• Yogurt
• Fruit
• Milk
7801 Bay Branch Drive, The Woodlands
281-419-8700
www.staoptw.org 
Klein HOSA
Accepted donations of:
• Sleeping Bags
• Toiletries
• Feminine Products
• Baby Items (clothes, wipes, diapers)
• Phone Chargers
• Towels
• Blankets
• hand Sanitizer
• Clean/New Socks
• New Pillows
• Shoes
Donations can be dropped off at 18418 Glenn Haven Estates Dr. or 17507 Colony Creek Dr.
Klein ISD
https://docs.google.com/document/d/e/2PACX-1vTTX6bS-IP_OQ-UZOPTWGMAQNKoQYgxQnCoALa5A-wVq_kMBMz0uCjE7Hle1961BI-GruwWeFzVoL5F/pub
Champions Masjid
Masjid Al-Salam aka Champions Masjid located at 16700 Old Louetta Road, Spring 77379 is being converted into a staging and distribution center. "We have plenty of food and water available for all those who need it. We are working towards setting up a fully equipped shelter for families needing assistance. If you stuck or in need of basic amenities, please feel free to simply show up. FYI, you don't have to be a Muslim or a Texan. This is available for all those who need help."
Klein Multipurpose Center
An update of what is needed at the Klein Multipurpose Center. No other items are needed at this time. They need to conserve space for people that need a space to sleep/stay. All other items can be taken to Northside Christian Church. Update.. Need the following: cots, air mattresses, food & water, feminine products, personal hygiene products, baby products, new pillows and shoes. They are NOT in need of the following: clothes, blankets, sleeping bags, towels and used pillows.
>>For a full list of shelters throughout Houston and Texas, please click here.<<
And those are just the ones I have learned about in the last couple of days. I am sure there are many others. So obviously my vocation is real estate, and I have been thinking of ways I can give back through real estate. I always have been one that loves to give, but now more than ever, I am wanting to give more than ever. So, stay tuned for my next blog post and PSA.
As the rain continues to beat down, I wish each and every one of you safety. You are on my mind.
P.S. I found this super cool and simple list of ways to give back.
1. Donate blood
2. House those in need
3. Support food pantries
4. Volunteer your time
5. Donate money
6. Help find loved ones
You can find the whole article here on Community Impact.
We are so happy you found our little corner of the interwebs. We look forward to y'all reaching out to us. We love to answer questions and welcome them. Recently we created some local maps, and you can download those by clicking the image/link above. Below, you will find an index of some very helpful information to assist you in learning more about the Houston suburbs. If you are relocating to our neck of the woods, we hope you reach out to us, because we would love to help you by being your local realtor and friend. Hugs, Jo.
Thoughtfully written for you by Jordan and the Jo & Co. Team.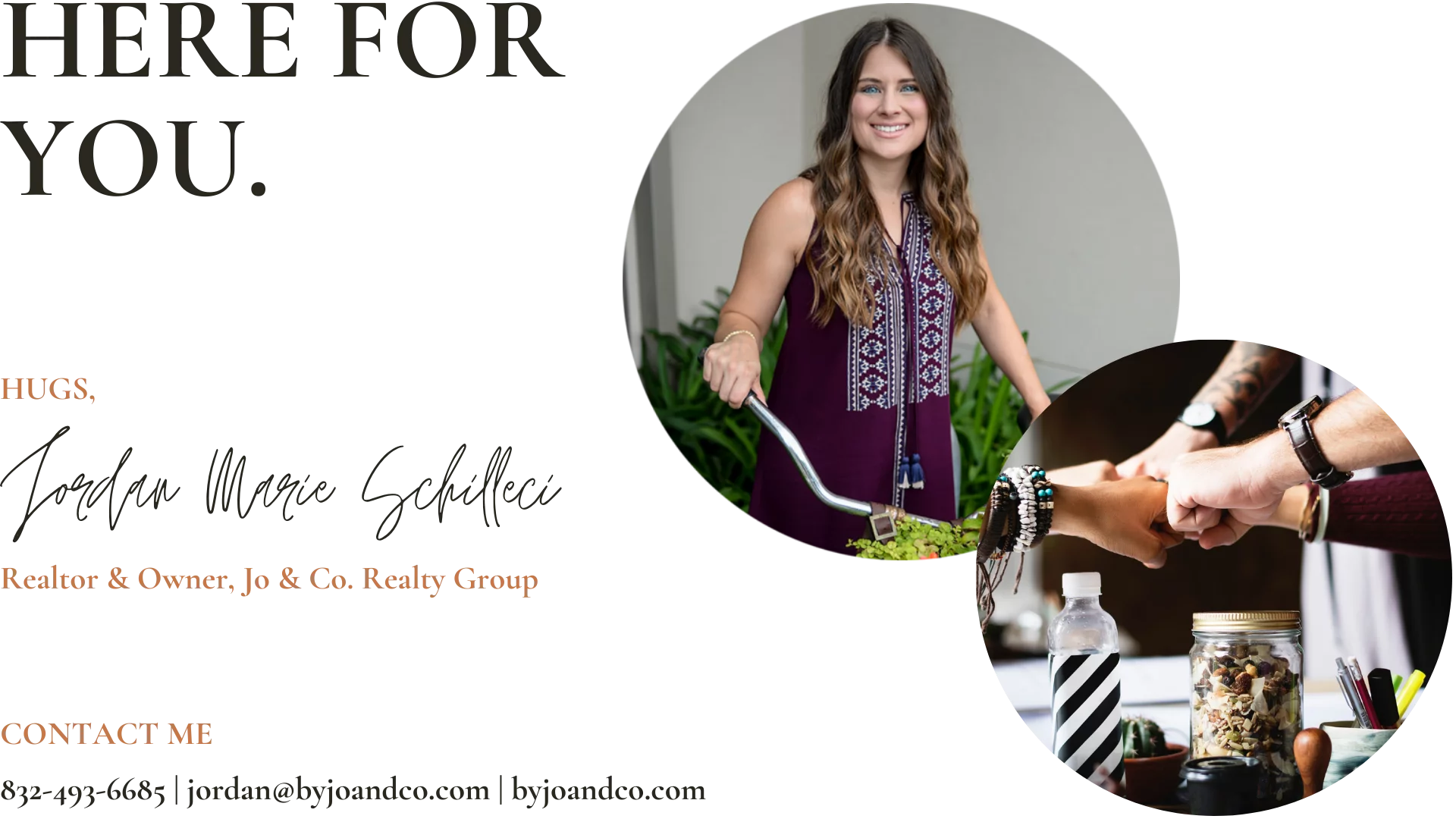 We are Waiting for You
If you are looking to relocate to the Houston Area, we would love to meet you, and hear your story. Below you will find all of my contact information, as well as some homes for sale in the area. We truly look forward to hearing from you! P.S. Don't forget to check out our YouTube Channel!

If you are overwhelmed..
Now if you are feeling overwhelmed on where you should plant your roots, I would love to talk to you. You can schedule a call with me by click this link: http://byjoandco.com/call or just send us an email: [email protected]. There are some amazing communities all over the Houston suburbs. In this post, https://search.byjoandco.com/blog/best-neighborhoods-in-houston/, I deep dive into all the different suburbs/neighborhoods that you might want to consider, and why. There are many resources here, so please reach out if you are curious what to look at next! Thank you for trusting us.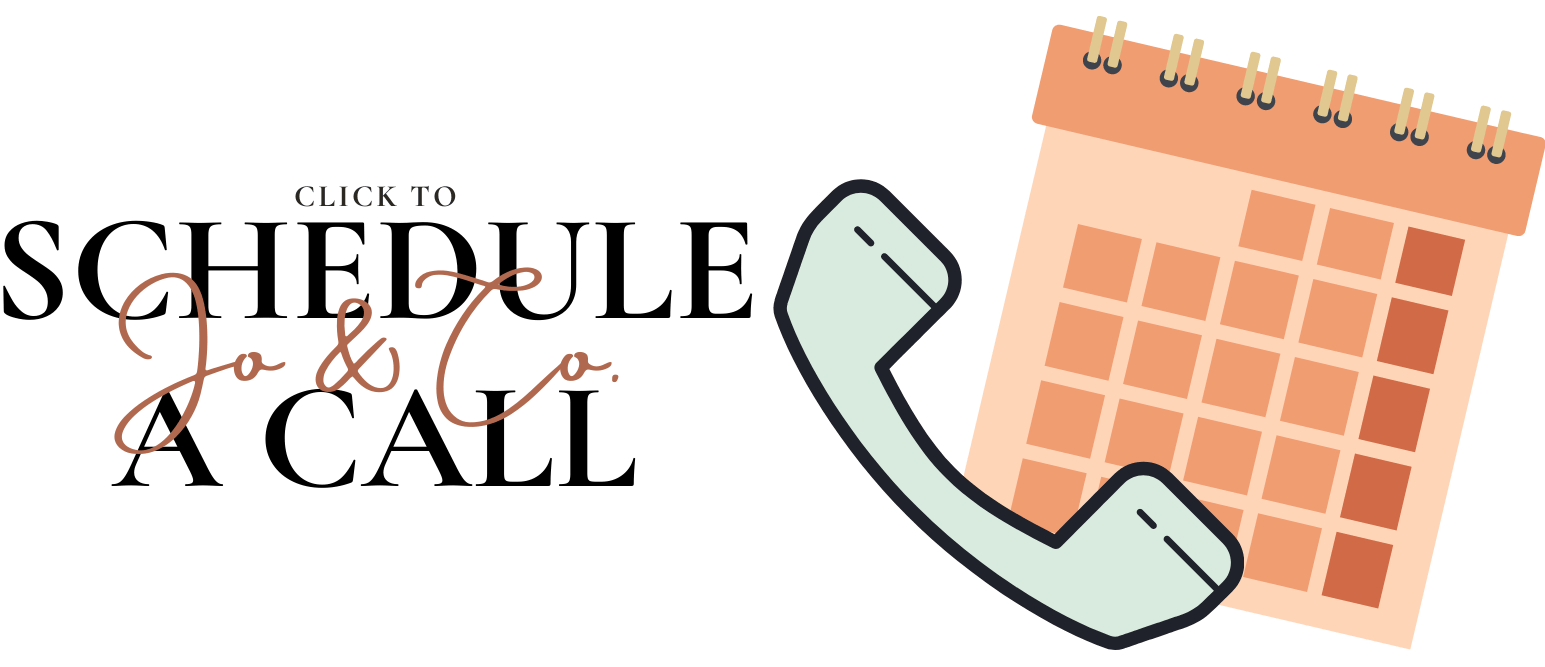 Links to check out..
➟ Our YouTube Channel :: http://byjoandco.com/youtube
➟ How do property taxes work in Texas? :: http://byjoandco.com/propertytaxesintexas
➟ Things to do in The Woodlands :: http://byjoandco.com/inthewoodlands
➟ Safest Neighborhoods in Houston :: http://byjoandco.com/safesthouston
➟ Best Neighborhoods in Houston :: http://byjoandco.com/bestneighborhoods
➟ Houston Texas Where to Live :: http://byjoandco.com/houstontexaswheretolive
➟ First Time Texas Home Buyer :: http://byjoandco.com/firsttimetexasbuyer
What next?!
• Download our Moving to Texas ebook! http://byjoandco.com/movingtotexasebook.
• Download our Where to Live in Houston Texas ebook! http://byjoandco.com/wheretoliveebook.
• Schedule a phone call or appointment with us! http://byjoandco.com/appointment.
• Email us! [email protected].
• Looking for a buyer's agent? Fill out our buyer questionnaire! http://byjoandco.com/q.
• Ready to find your dream home? Search, http://search.byjoandco.com.
• Subscribe to our YouTube Channel: http://byjoandco.com/youtube.

At Jo & Co. we know that most people struggle with the home buying or selling experience. We are a brokerage, real people, that do more for you, by being with you every step of the way, so that you plant your roots in the right soil. One way that we go above and beyond is with the content we share on YouTube. Click the photo below to explore our channel.