Hi friends,
I don't know if you are need of a moving company, but this is the one I recommend to all of my clients. At GreenLight, they understand that businesses and homeowners don't want to wonder if their belongings are safe – they want to know. That's why it is their mission to show their clients that they respect their possessions and time as if they were our own. (Even if it means going out of their way to do so). It's also why they only hire professional movers for our staff – unlike most moving companies. Today, they have the highest review score in the industry because they take our mission to heart. Check out some of their reviews below..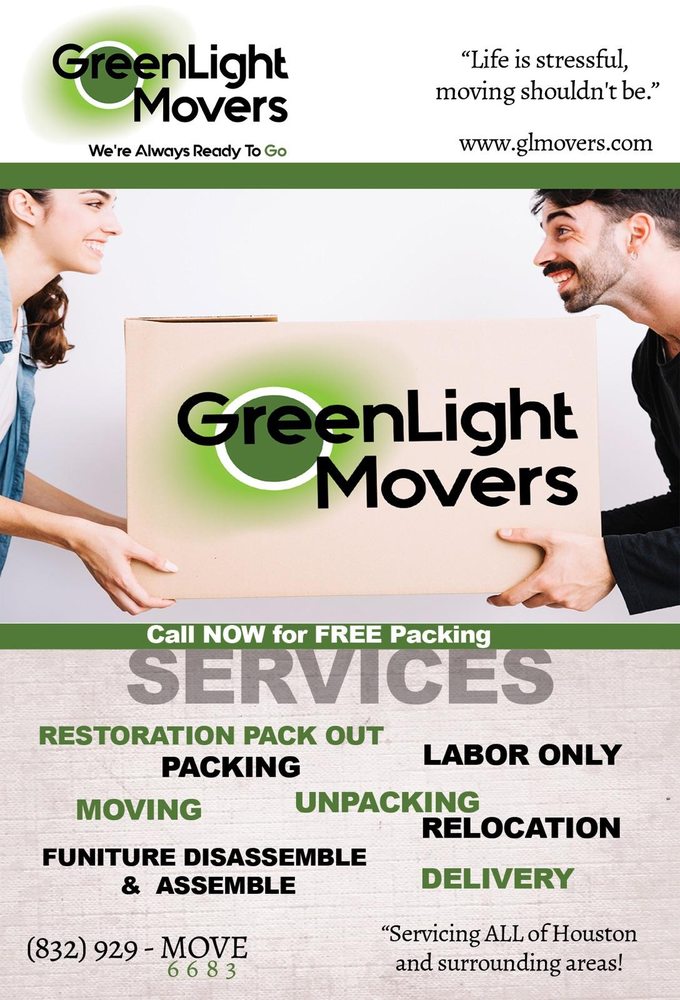 GreenLight Movers Reviews
Looking for the best and definitely found the best. Robert reached out to me as soon as I submitted my quote. Talk about fast!!! He was so nice & made sure I was in good hands. They definitely care. I needed this move to be done the next day and I was immediately scheduled. They arrived hours before the ETA given to me so everything got done in no time. Which is exactly what I wanted. They covered the door frames to protect everything in  the house. The guy's Jermaine & AJ were just awesome, super cool dudes. I'm so happy with this service and the level of professionalism is outstanding. I will absolutely keep them for any future moves. Thank you so much Robert for making this experience less stressful for me. I truly appreciate it. If you're looking for great service go with these guys, y'all can thank me later .
If I could give more stars I would.  Robert with GreenLight Movers came to my rescue after being stood up by another mover.  Not only was he able to fit me in with zero prior notice, he was able to accommodate me with a special interim stop.  His crew was fast and fabulous and extremely  careful.  Great guys!  Robert happened to be in the neighborhood during the move and dropped by to introduce himself.  I am thrilled he answered my call during my moment of panic.  I would highly recommend them for any move – large or small.
I was SO dreading our move because in the past movers have promised much more than they actually delivered. But Green Light? Wow!! I can't say enough great things about them. They got to my house right on time, which has never happened before in our moving experiences. Very reasonable rates, extremely polite, covered all my furniture with blankets, but my floors, railing and doorways were also protected with blankets. And they sure hustled!! They never stopped moving and I had some terribly heavy furniture they had to carry down a flight of steps!! If you're planning a move, do yourself a huge favor and call Robert at Green Light Movers.
Green Light Movers was recommended to me by a good friend. We have a lot of antiques and sentimental items as well as large, heavy furniture so I knew we needed help. Robert was very responsive and informative with how the process would go and addressed all of my concerns with patience and understanding.

On the day of the move, 3 of his men showed up with smiles and cheerful attitudes. They worked hard the whole time making sure everything was properly wrapped and secured. It took no time at all for them to have the truck loaded down with everything strategically placed and strapped so that nothing shifted during transit.

When they arrived at our new house, they immediately got to work unloading and unwrapping each item. They did a great job of asking where we would like certain items and didn't just set them down in a convenient spot. Everything was in perfect condition just as they had found it – no scratches, dents or broken items!! Robert even called me a couple of times to check in and see if we needed anything.

I've always heard horror stories about different moving companies but our experience with Green Light Movers was EXCEPTIONAL. I'm a wedding planner and have already recommended them to 3 of my brides who are moving after their weddings!

As a fellow business owner, I take a lot of pride in how our clients are treated and the experience they receive so naturally, I notice when other small businesses go above and beyond. Robert has created an incredible business with an amazing team. My husband and I could not have been happier and the morning after the move our backs feel great since we didn't do any of the heavy lifting! WE ARE SO THANKFUL FOR GREEN LIGHT MOVERS!
Contact Information
Robert Green, GreenLight Movers
832-929-6683 | [email protected] | glmovers.com
You can find more of their reviews on Facebook or Yelp.
Love y'all,
<3xojo
Your Realtor,
Jordan Marie Schilleci, REALTOR®, Jo & Co. Realty Group
Call/Text 832-493-6685 | Email | Facebook | Reviews