Hi friend! Are you planning to visit Cypress and want to know what things you can do while there? If so, keep reading!
Cypress is a community in Harris County, Texas, situated about 25 miles northwest of Downtown Houston. It is one of the most affluent communities in the United States, and its overall crime rate is much lower than average.
It has excellent schools, plenty of outdoor activities, and conveniences for residents. Over thirty county parks are available to local residents, offering everything from camping areas to water sports facilities. In addition, the Cypress Creek Greenway Project offers a number of biking and hiking trails that link to anchor parks along Cypress Creek.
To help you discover the hidden gems of this city, we've put together a list of some of the most interesting things to do in this area. We'll cover some amazing restaurants, attractions, and even model homes to visit. I hope you find this list helpful during your stay, especially if it is your first visit! Please reach out to me if you need assistance with your relocation.
If you are interested in what we recommend in other nearby cities, check out our First Visit category.
Restaurants in Cypress
– Sam's Boat: Gulf Coast Kitchen & Sports Bar. Large menu, offering something for everyone. Outdoor deck overlooking Towne Lake
– World of Beer: is an American tavern chain serving around 300 different beers including 50 on tap.
– Torchy's Tacos: Taco chain that started as a food truck in Austin, Texas. Also offers breakfast tacos. Be sure to try their queso and get your taco "Trashy".
– Mod Pizza: Take the family to build their own pizza at Mod which offers a wide variety of toppings.
– CoCo Crêpes, Waffles & Coffee: Stop by for breakfast and a sweet treat.
– Crumble Cookie: One of the largest gourmet cookie takeout and delivery companies.
– L3 Craft Coffee: Coffee shop that offers freshly roasted beans, a variety of teas and food that compliments their drinks.
– Local Table: Restaurant with a wide variety of food that is fresh and locally sourced.
– Chisos Fresh Mex Kitchen & Cantina: Mexican restaurant with a variety of food options.
– Great American Cookies: Wonderful cookies everyone is sure to love.
– Le Macaron: French pastries to die for. Large menu including macarons, french gelato, cakes, fine chocolates, candies, waffles, etc.
Looking for something more upscale? 
– Hailey's Italian Restaurant: Local Italian restaurant which serves creative made-to-order dishes or your known and favorite Italian classics.
– The Chef's Table: Created by Master Chef Paul Friedman. Offering something for everyone with a broad menu including veggie options, seafood, chicken, and steaks. The Jerk Snapper is one of my favorites.
– Dario's Steakhouse & Seafood: Fresh seafood delivered daily and exquisite steaks with every meal made from scratch.
– Marvin's : Hand-crafted Italian dishes made fresh. Including a premier bar and expansive wine list.
Food Trucks in Cypress
Twisted Grilled Cheese
– You guessed it, a food truck for some very unique grilled cheese sandwiches. They're loaded with amazing ingredients and even have vegetarian options. They serve loaded fries, other sides, and shakes as well!
https://www.twistedgrilledcheese.com/
La Sabrosura
–  Venezuelan truck with food that tastes as good as it looks. Famous for their Pepitos, which are Venezuelan Boat Sandwiches. They also serve burgers, loaded fries, tacos, and salads!
https://www.facebook.com/lasabrosura.food/
Pita Bites
– Mediterranean cuisine full of fresh, flavorful ingredients. This truck is highly reviewed for having the best Shawarma around.
https://www.facebook.com/pitasbites/
The Taco King
– Mexican food with large portions for great prices. Known for their traditional tacos and quesadillas that are always packed with meat!
https://www.facebook.com/pages/The%20Taco%20King/226334397893581/
El Agave
– Mexican food truck that serves some amazing Birria, and also offers Ramen Birria. If you go you'll definitely want to try a special menu item, their Baked Potato El Agave!
https://www.facebook.com/elagavecypress/
Lonestar BBQ
– Classic barbecue with a large menu full of options. They have build-your-own plates, loaded baked potatoes, nachos & tacos, and more. Be sure to try their yummy desserts too!
https://www.lonestarbbq.org/
Toron
– Classic Mexican food with some creative items added in. Their Hot Cheeto Elote is a huge hit, along with the Quesadilla Grande!
ttps://www.facebook.com/Toron-Food-Truck-337213470480124
Places To Experience in Cypress
– Houston Premium Outlets: Tons of shops including Lululemon, Michael Kors, Marc Jacobs, Nike, Adidas, Kate Spade, Ralph Lauren, Tory Burch, Burberry, Coach, David Yurman, plus many others.
– CUT! by Cinemark Cypress: dine-in movie theatre located outside the outlet mall.
– Towne Lake Boardwalk: Be sure to check out the Boardwalk event calendar for live music, farmers markets, and so much more.
– Berry Center: Multi-purpose facility that hosts graduations, conventions, staff training, events, college and career nights, blood drives, etc. It is made up of an arena, conference center, theater, athletic stadium, and food distribution center.
Things To Do | Blog post link.
Make sure to check out the calendar for different events happening in Cypress.
Parks 
– Oak Meadow Park: 30-acre park with shaded areas for picnics. Stocked lake for catch and release fishing, pavilion, restrooms, and an 18-hole disc golf course.
– Shores Park: 4 acres park with a play area and a pavilion. Offers paved walking trails with amazing landscapes.
– Lakeland Village Park: 20-acre park that offers something for the whole family. Skate park, basketball court, walking trails, tennis courts, heated lap pool, canoe/kayak launch, fishing pier, playgrounds, and more!
– Josey Lake Park: Check out one of their kayaks or paddle boats to explore the 3-mile waterway loop. The park also offers a sprayground, playground, bird tower, and a pavilion with an event lawn for community events.
– Festival Park: Covered pavilion for concerts, movies, and other events. It does offer restrooms and a fireplace with seating around.
– Water Have Park: Sprayground with a pavilion and barbecue grills.
– Tree House Park: Award-winning two-story tree house.
– Dragonfly Park: Newest park which is 25 acres. Custom dragonfly created for climbing, sprayground, tennis courts, dog park, basketball court, walking and biking trails, fitness center, event hall with a view of the lake plus so many other amenities.
– Parkland Common: 1 mile-long trail system many people use to walk to school. Two parks are located along the trail which allows kids to burn off some energy.
– Mandolin Gardens Park: Beautiful water fountains and cement trails for walking and biking.
– Kickerillo-Mischer Preserve: Multiple trails including one 1.7 miles long that goes around the lake. The park offers picnic tables, a volleyball court, swings, and public restrooms. This is located off Highway 249.
– Cypress Point Park: Kid-friendly park with a playground and volleyball court.
– Telge Park: Multiple playgrounds to choose from. Large open field, picnic tables, walking trails, and restrooms.
Neighborhoods to Check Out in Cypress
BlackHorse Ranch | Homes for sale in BlackHorse Ranch.
BlackHorse Ranch is a prestigious golf course community. It offers a resort-style lifestyle with amenities such as trails throughout the community, lakes, swimming pools, a splash pad, a playground, and a covered picnic area. This neighborhood has close proximity to Highway 290, schools, shopping, and more.
Bridgeland | Homes for sale in Bridgeland.
Bridgeland is a master-planned community in Cypress, Texas. The community is 11,400 acres that will one day be made up of 20,000 homes. However, over 3,000 acres will be devoted to trails, lakes, parks, etc. It is one of my favorite neighborhoods and the perfect community to raise your family in. The amenities offered are endless. From a resort-style pool, spray pad, tennis courts, and playground, to a fitness center and a 6,000-square-foot community center. There is something for the whole family. Bridgeland also has an on-site activities director who plans many events for the community all year long. Residents enjoy concerts and movies at the Festival Park stage pavilion. As well as catch-and-release fishing and complimentary use of canoes, kayaks and other recreation equipment on the lake.
Bridgecreek | Homes for Sale in Bridgecreek.
When it comes to luxury living, Bridlecreek has it all. With incredible homes in beautiful surroundings and the serenity of a sparkling creek in the heart of the community, Bridlecreek offers the life you're dreaming of. Best of all, it's ideally located in Cypress near 290, making it an easy commute for both work and play. Bridlecreek has a gated entry, oversized homesites, and homes with innovative floor plans.
Coles Crossing | Homes for Sale in Coles Crossing.
Coles Crossing is one of the region's premier communities offering some of the best amenities, schools, shopping, and green space in Cypress, Texas. This Master Planned Community is located in the northwest part of Harris County. Coles Crossing is easy to find, located off Hwy 290 and north on Barker Cypress. Coles Crossing is an active, thriving community that offers something for residents of every generation. Established in 1998, Coles Crossing has approximately 2,600 homes. Coles Crossing's master plan devotes 175 acres to recreational amenities, with an emphasis on preserving wooded natural areas and creating inviting spaces where families, friends and neighbors can come together.
Copper Bend | Homes for Sale in Copper Bend.
Copper Bend is a master-planned community with attractive new homes for sale in an excellent Cypress area location with award-winning home builders, Newmark Homes and Perry Homes. Featuring Texas Hill Country landscaping that will add to the charm of the community and family-friendly amenities, Copper Bend is truly a place where community comes naturally. The incredible amenities include: sparkling 4-acre lake, shaded park with playground, swings, grass fields, a drive-up central mailbox kiosk, one arboretum-style park with large oak trees, miles of biking and hiking trails, and a community resort-style pool.
Cypress Creek Lakes | Homes for Sale in Cypress Creek Lakes.
Cypress Creek Lakes is a community built around nature and water. The neighborhood showcases an abundance of water amenities, including: lakes, splash pads, and swimming pools. The signature feature of Cypress Creek Lakes are the lakes located through the community creating breathtaking views, and inviting you to spend your time outdoors. The walking and biking trails take you through the community with ease, and allow you to enjoy the great outdoors. Another fantastic amenity of the community is the fitness room.
Fairfield | Homes for sale in Fairfield.
Complete with miles of greenbelt trails, lakes, neighborhood parks and numerous pools, Fairfield has become a community that's known more as a small town. A growing number of the move-up homebuyers in Fairfield are residents of the community. This is because Fairfield has everything they need close to home. Highlighting its amenities program is the Fairfield Athletic Club. Offering all of the features of a private health club without the monthly membership requirement, the Fairfield Athletic Club has become the social focal point of the community. Complete with tennis courts, a gymnasium, a weight room, meeting and childcare rooms, a competition-size pool, children's pool and surrounding 20-acre landscaped sports park with ball and soccer fields, the Fairfield Athletic Club is also home to numerous activities and organizations. From before and after school care to aerobics classics and organized sports activities and to community events like Snow Day and the Fourth of July Parade, the club has become an amenity that's used by Fairfield residents year-round.
Lakewood | Homes for sale in Lakewood.
There are many communities in the Lakewood area, including Lakewood Forest. This established neighborhood features custom homes, beautiful trees, large homes, award-winning schools, and fantastic amenities. Lakewood Forest is minutes from The Vintage. A contemporary complex featuring high-end shops, a spa, casual & fine dining, plus music & events. Lakewood Forest is next to University Park which includes Lone Star College, The University of Houston, and Texas Southern University. Also, for commuters, it is easy to access Hwy 249, Beltway 8 and the Grand Parkway. Lakewood  Forest is known for its Majestic Oak trees, beautifully landscaped medians, quiet surroundings and quick access to local hike and bike trails.Cypress Fairbanks and Tomball Independent School Districts, both of which have a highly regarded reputation for excellence serve Lakewood Forest students.  Homes are on large residential lots with separation from neighbors allowing for much privacy.  Residents come together several times during the year to enjoy family focused events hosted by the Fund and Civic Association Board Members.  Also, Lakewood Forest has one of the lowest HOA fees in Northwest Houston.
Longwood | Homes for sale in Longwood.
Longwood Village  is home to a vibrant, family-oriented neighborhood and premier green space community. We offer an impressive array of amenities such as acclaimed CyFair schools, extensive shopping, lots of great restaurants, nearby county parks and preserves, two great pools, three colorful playgrounds, four competition tennis courts, shaded gathering areas, pickleball and tennis leagues, a nature-filled pond, trees galore, a pavilion, a 27-hole golf course and expanding area hike/bike trails. Plus we offer convenient access to Hwy 290, Hwy 249, Tollway 99 and Beltway 8. Longwood Village is an involved community that serves people of all ages and stages. Established in 1995, Longwood has more than 1,500 homes. It offers a spectrum of home types, including first-time buyer homes, family-sized homes, garden homes, golf course homes, custom homes and two gated sections. The residents of our neighborhood know our community is more than just a place to live – it's a place to call home.
Miramesa | Homes for sale in Miramesa.
Life at Miramesa is centered on the concept that your home is a peaceful refuge at the end of each day. Home to a multi-faceted recreation complex, with a planned on-site school located in the Cypress-Fairbanks ISD, Miramesa residents also have full privileges to the amenities within Stone Gate & Canyon Lakes West. Residents of Miramesa have the unique opportunity to enjoy amenities the day they move into the community. In addition to Miramesa's beautiful $2.5 million on-site recreation center with a 3,000-square-foot resident clubhouse, residents of this new Cypress community also have full access to the entire Stone Gate & Canyon Lakes West family of amenities. Families can enjoy several amenities including the SplashPad Texas, deluxe playground, resort-style pool, tennis court, dog parks, and much more! The master plan includes approximately 1800 acres south of U.S. 290 off Fry Road. Miramesa at Canyon Lakes West is located in a convenient Cypress, Texas neighborhood, an ideal location that's accessible to all areas of the city and only about 40 minutes from downtown Houston.
Towne Lake | Homes for sale in Towne Lake.
Towne Lake is a community connected by water. There is nothing else like it in the Houston Suburbs. At 300 acres & 14 miles of shoreline, Towne Lake boasts the largest private lake in the Houston area. From boating to dinner to skiing with friends, you can do it all from your backyard. Towne Lake is an award-winning master planned community that reflects its Texas-sized appeal in a 300-acre lake, the largest private recreational lake in Houston. With over 14 miles of shoreline and a 6 mile continuous boat ride, Towne Lake offers unprecedented lakeside living. Connected trails, waterways and scenic coves allow neighbors easy access to the lake and community amenities, creating a unique lakeside living experience. Towne Lake is a place where neighbors can work, play, raise children and leave a legacy for generations to come. Towne Lake is the centerpiece of one of the region's most sought-after areas in Northwest Houston. Bordered by 290, West Road and Barker Cypress Road, Towne Lake is right in the heart of the Cypress-Fairbanks area, surrounded by restaurants, shopping, as well as educational and recreational opportunities. Zoned to the highly-acclaimed Cy-Fair ISD, Towne Lake is home to 3 onsite schools.
Villages of Cypress Lakes | Homes for sale in Villages of Cypress Lakes.
There are many wonderful qualities to the Villages of Cypress Lakes that contribute to folks making it their home. It is located near Towne Lake in Cypress just off Cypress-Rosehill and north of Hwy 290. Students attend the highly acclaimed Cypress-Fairbanks Independent School District (CFISD). The community is just minutes away from the 290 METRO Park and Ride, and the Sam Houston Tollway. You would have quick access to major shopping centers, popular restaurants and entertainment. Just around the corner, you have the Cypress Lakes Golf Club, a Fazio designed championship level course. And you also have the fantastic Houston Premium Outlet Mall nearby.
Open Houses
| | | |
| --- | --- | --- |
| BlackHorse Ranch  | LINK | Bridgeland | LINK | Bridgecreek | LINK |
| Coles Crossing | LINK | Copper Bend | LINK | Fairfield | LINK |
| Lakewood | LINK | Towne Lake | LINK | All of Cypress TX Open Houses | LINK |
Most Popular New Construction Neighborhoods in the Cypress TX
Bridgeland | Homes for sale in Bridgeland.

Copper Bend | Homes for Sale in Copper Bend.

Hidden Arbor | Homes for sale in Hidden Arbor.
Miramesa | Homes for sale in Miramesa.

Telge Ranch | Homes for sale in Telge Ranch. 
Towne Lake | Homes for sale in Towne Lake.
Where to live in Cypress TX if your budget is under $400k.
I included links to homes for sale, but I didn't alter the price point, so be sure to use the "Price" option to show you your price point, or you can just "Sort" low to high.
Other Cypress TX Related Blog Posts – Cypress TX Category (I would start with the links below, and then the category link.)
Extras
Please save my phone number to your phone, and I hope you have a lovely visit! Jo.
We are so happy you found our little corner of the interwebs. We look forward to y'all reaching out to us. We love to answer questions and welcome them. Recently we created some local maps, and you can download those by clicking the image/link above. Below, you will find an index of some very helpful information to assist you in learning more about the Houston suburbs. If you are relocating to our neck of the woods, we hope you reach out to us, because we would love to help you by being your local realtor and friend. Hugs, Jo.
Thoughtfully written for you by Jordan and the Jo & Co. Team.
We are so happy you found our little corner of the interwebs. We look forward to y'all reaching out to us. We love to answer questions and welcome them. Recently we created some local maps, and you can download those by clicking the image/link above. Below, you will find an index of some very helpful information to assist you in learning more about the Houston suburbs. If you are relocating to our neck of the woods, we hope you reach out to us, because we would love to help you by being your local realtor and friend. Thoughtfully written for you. Hugs, Jo.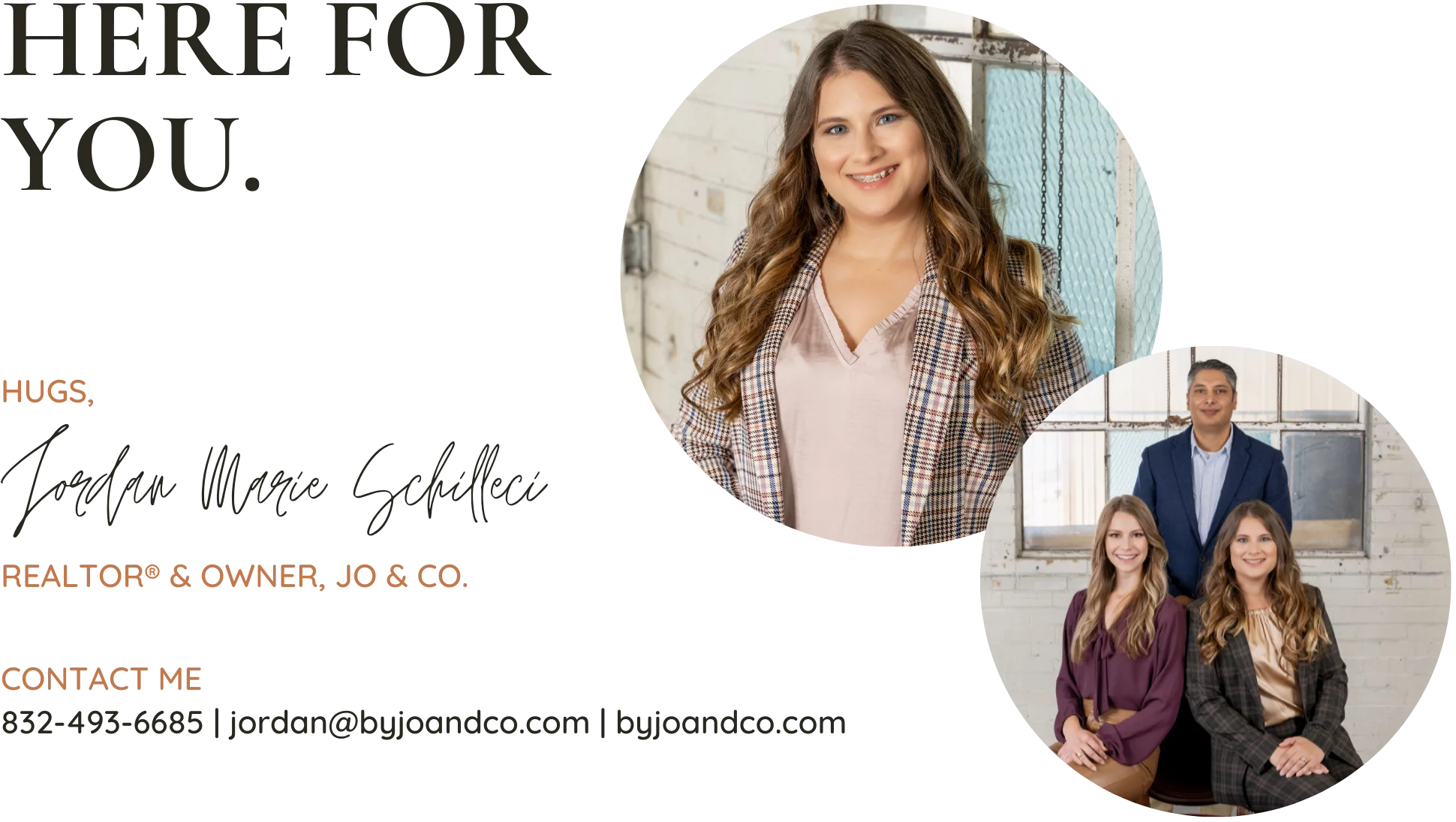 We are Waiting for You
If you are looking to relocate to the Houston Area, we would love to meet you, and hear your story. Below you will find all of my contact information, as well as some homes for sale in the area. We truly look forward to hearing from you! P.S. Don't forget to check out our YouTube Channel!

If you are overwhelmed..
Now if you are feeling overwhelmed on where you should plant your roots, I would love to talk to you. You can schedule a call with me by click this link: http://byjoandco.com/call or just send us an email: [email protected]. There are some amazing communities all over the Houston suburbs. In this post, https://search.byjoandco.com/blog/best-neighborhoods-in-houston/, I deep dive into all the different suburbs/neighborhoods that you might want to consider, and why. There are many resources here, so please reach out if you are curious what to look at next! Thank you for trusting us.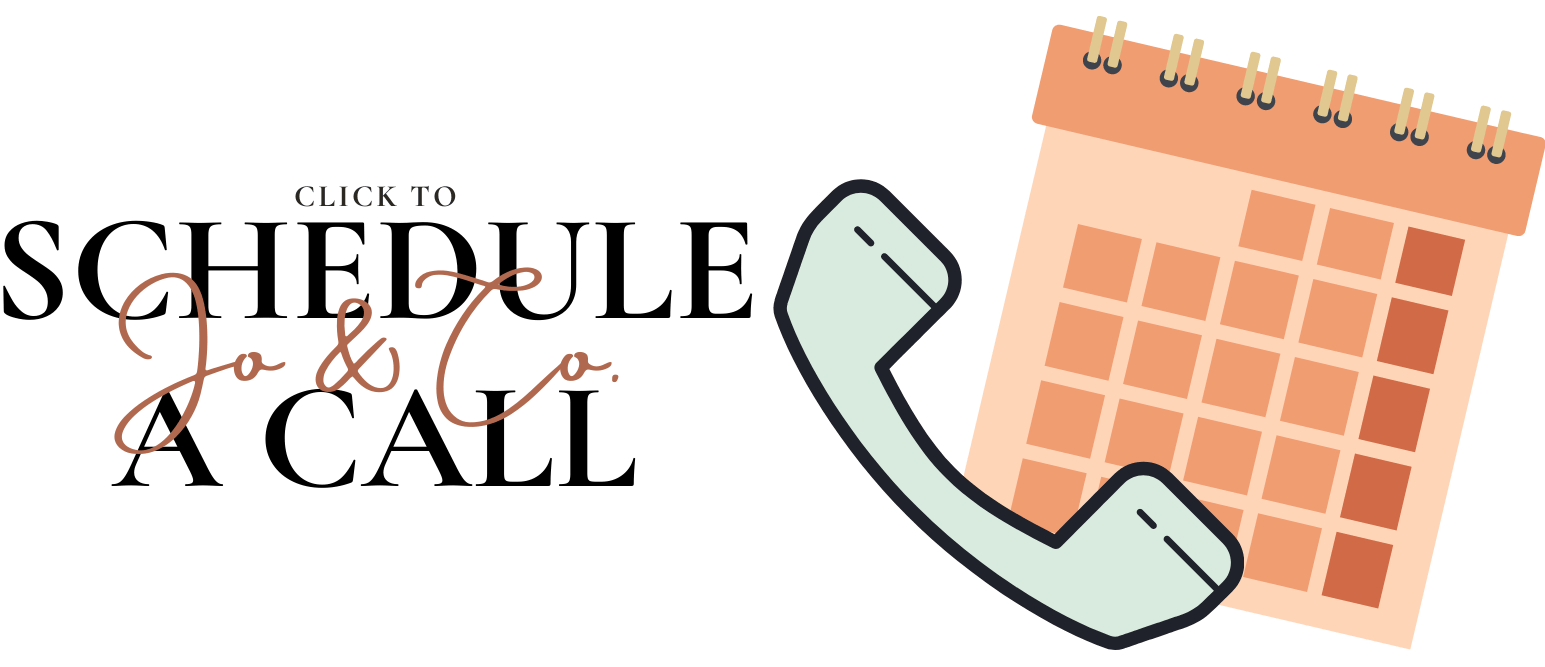 What next?!
• Navigate our blog: https://byjoandco.com/categories-to-help-you-navigate-the-blog/.
• Download our Moving to Texas ebook: http://byjoandco.com/movingtotexasebook.
• Download our Where to Live in Houston Texas ebook: http://byjoandco.com/wheretoliveebook.
• Browse our Ebooks and Relocation Guides: http://byjoandco.com/ebooks.
• Schedule a phone call or appointment with us: http://byjoandco.com/appointment.
• Email us! [email protected]
• Looking for a buyer's agent? Fill out our buyer questionnaire: http://byjoandco.com/q.
• Ready to find your dream home? Search, http://search.byjoandco.com.
• Subscribe to our YouTube Channel: http://byjoandco.com/youtube.