Yesterday, the hubs and I trekked to The Heights to meet a new family, looking to buy their first home in Katy. Since my weekend was full of showings and family time, we scheduled to meet during the wife's lunch break. I love The Heights, and who can say no to a traditional po' boy?! So off we went! We met up at Antone's, I ordered the fried shrimp, and them the tuna.
We talked about house hunting priorities, budget, life, and all things important. They expressed, they weren't quite finding exactly what they wanted within their lender given, preapproval budget of $200,000, but yet when the went up a bit, they were finding many more options that met their expectations.
That got me thinking about tax rates, which later that evening, led me to breaking out my handy-dandy-calculator, along with one of my favorite apps. And this evening, I want to share with you the illustrations I made with those awesome tools!
The home on the left has a tax rate of 2.6518%, was tax assessed for $183,340 in 2017, which led to the total taxes being $4,862 before any exemptions.
The home on the right has a tax rate of 3.75%. This home has yet to be tax assessed, but if we use a sales price of $208,000 as our assessed value, a home owner will be paying $7,800 in taxes each year, before any exemptions.
That is a huge swing, if you ask me! So if the client is putting down just 3%, and has an interest rate of 4.875%, you can look at the illustrations above to see the mortgage payment for the first home would be $1,865, and the mortgage payment for the newer home would be $2,096, if purchased for $208,000. That is a $231 difference. Now these particular clients are approved for $1978 as their max monthly payment, making the second home, not an option.
There are many factors that determine how much you are approved for as a purchase price. Your credit score is a huge factor, because if your downpayment is below 20%, you will have an extra monthly fee called PMI (private mortgage insurance), and your credit score/risk level is a huge factor in determining your monthly PMI cost.
Other factors include your total debt and income, which is typically referred to as your DTI (debt-to-income ratio).
FHA Maximum DTI Ratio
FHA's maximum qualifying debt ratios for borrowers in 2019 are 31% and 43%. This means the monthly housing payments should not exceed 31% of gross monthly income, while the total debt burden should not exceed 43% of monthly income. But there are exceptions to these rules. Here is a little cheat sheet..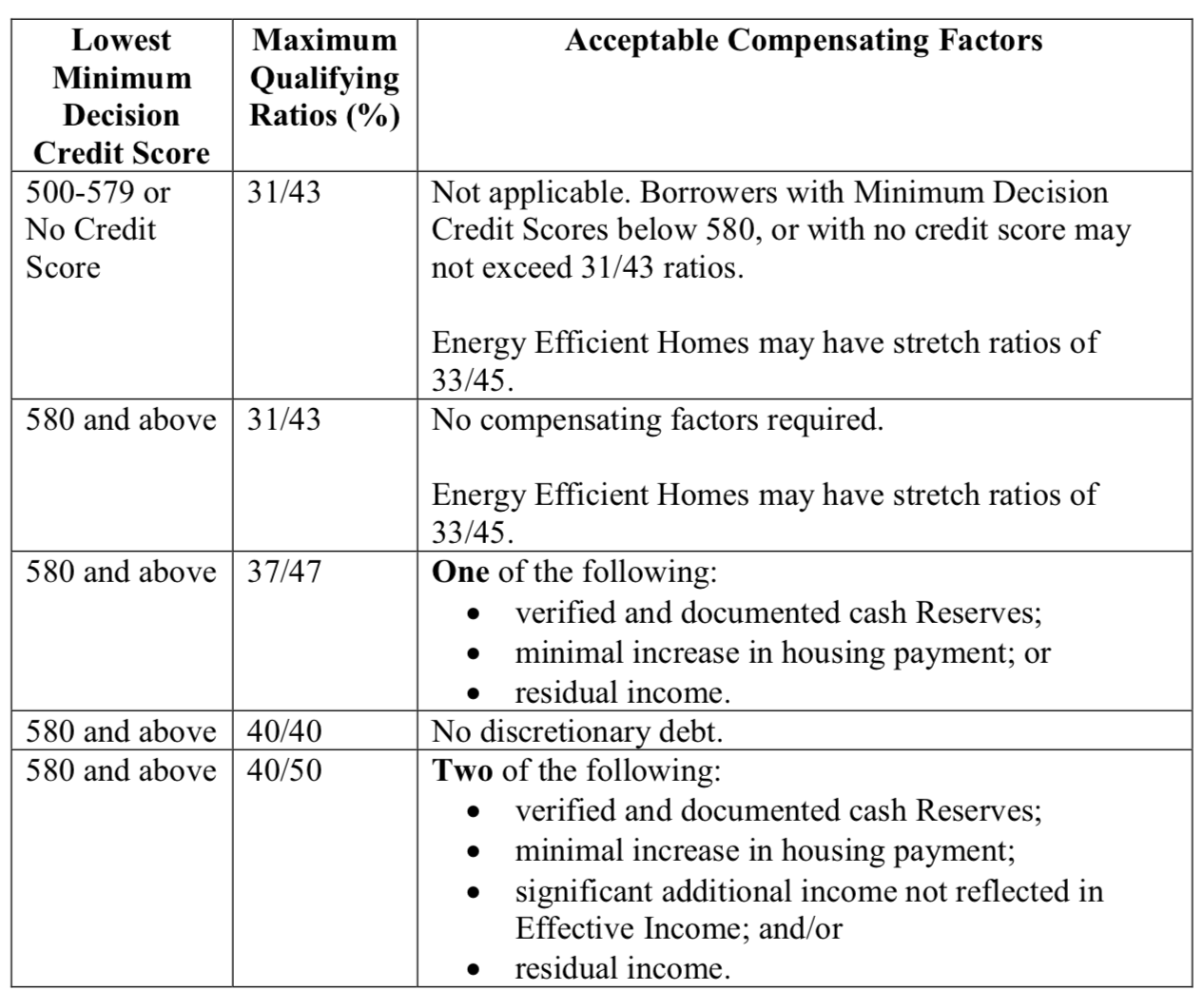 VA Maximum DTI Ratio
The VA does not state loan requirements with a maximum debt to income (DTI) ratio. However, lenders set there own. Typically, lenders max DTI ratio for VA 41%. However, in some cases, there are exceptions, such as the ability to make a downpayment, a high net worth, large amount of reserves, increased earning potential, and/or a high credit score.
Conventional Maximum DTI Ratio
Conventional loans, generally have a maximum debt to income of 43%. However, exceptions can be made for DTIs as high as 50%, such as the ability to make a downpayment, a high net worth, large amount of reserves, increased earning potential, and/or a high credit score.
Nothing in real estate financing is cut and dry or black and white, so it is always nice to a have a competent and experienced real estate lender ready and willing to help you understand all the ins and outs of financing a home.
I am so excited to continue working with this family, as I help them find their dream home!
Love y'all,
<3xojo
Jordan Marie Schilleci, REALTOR®, Jo & Co. Realty Group