So this is the first time I am writing about Grand Central Park. I am going to go ahead and pull from their website, a little bit about this new community..
Welcome to Grand Central Park
An Urban Experience
Pristine wooded splendor… electrifying urban excitement… natural serenity… world-class shopping, dining, and entertainment… Grand Central Park is more than just a new master-planned community with homes for sale in Conroe; it's a sensational 2,046-acre experience that wonderfully combines living, working and playing. What's more, it's located just 5 miles north of The Woodlands along Interstate 45 and S. Loop 336, providing excellent access to everything Montgomery County has to offer, as well as close proximity to Houston's new Energy Corridor and ExxonMobil campus. Gorgeous woodland getaway… dynamic destination for shopping, dining and more, Grand Central Park is truly the best of both worlds.
If you listened to last Wednesday's market update on the podcast, or read it here, you will remember that I ran a market analysis on Woodforest, another neighborhood situated north of The Woodlands in Conroe, TX. I had uncovered that the market was slower out there this year compared to last year, and I was guessing/assuming another Conroe neighborhood was to blame. I didn't name it, but the neighborhood I am blaming is Grand Central Park. I am guessing this location is more favorable because it is right off Interstate 45.
When I pulled up the "last two years" of data for "Grand Central Park", I found only one house sold in 2016, while 30 homes have sold so far this year, with 11 pending. There are currently 20 inventory homes active in the MLS with plenty more in the builder's private inventory.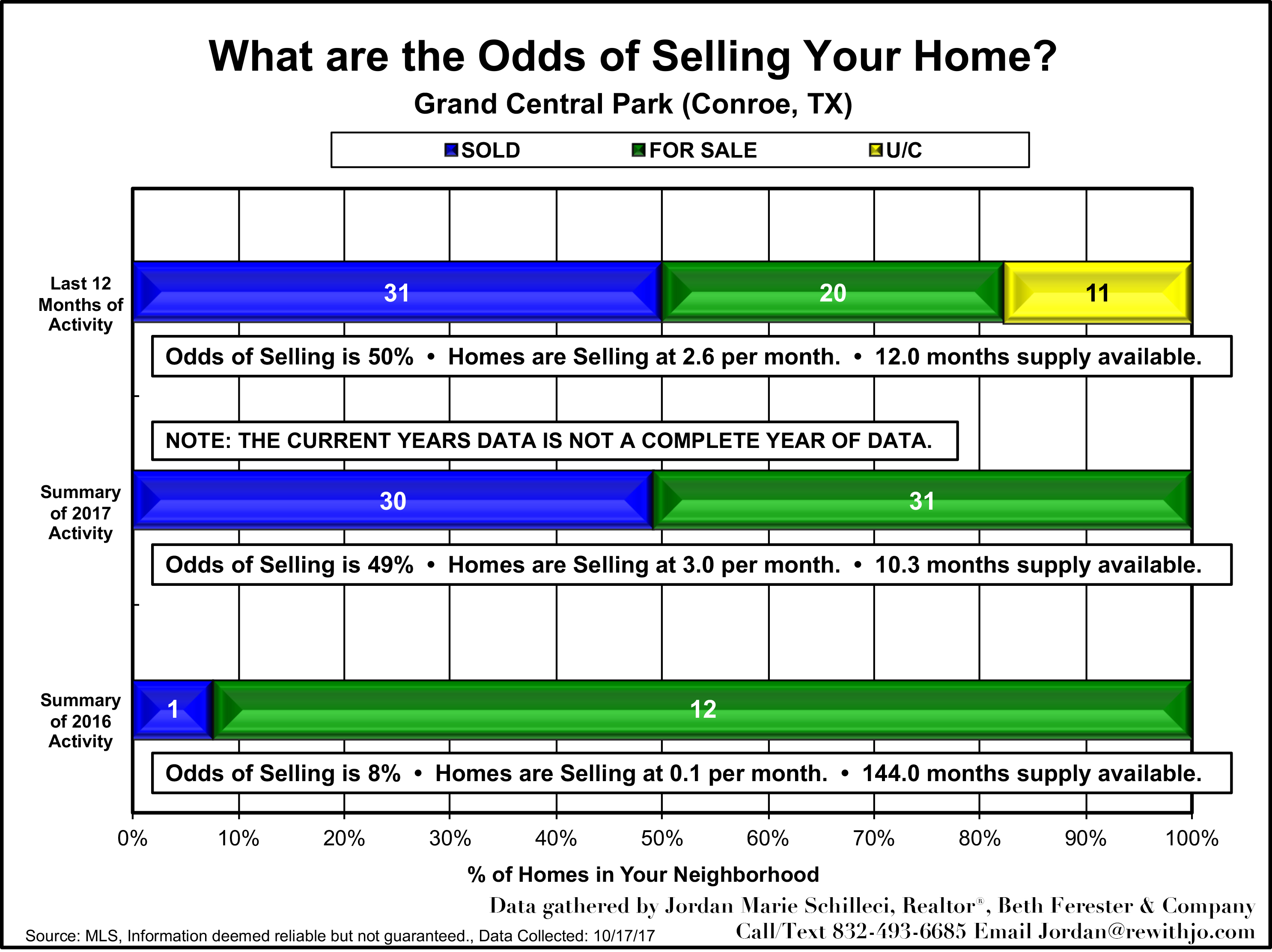 When I graphed the data for the scattergram, the data points seemed illogically all over the place. I instantly knew what the issue was. There are builders in this neighborhood within different price ranges, and the only way to accurately show the data is to break it up by builder. So I did just that. I found 4 builders have sold in Grand Central Park so far.
Darling Homes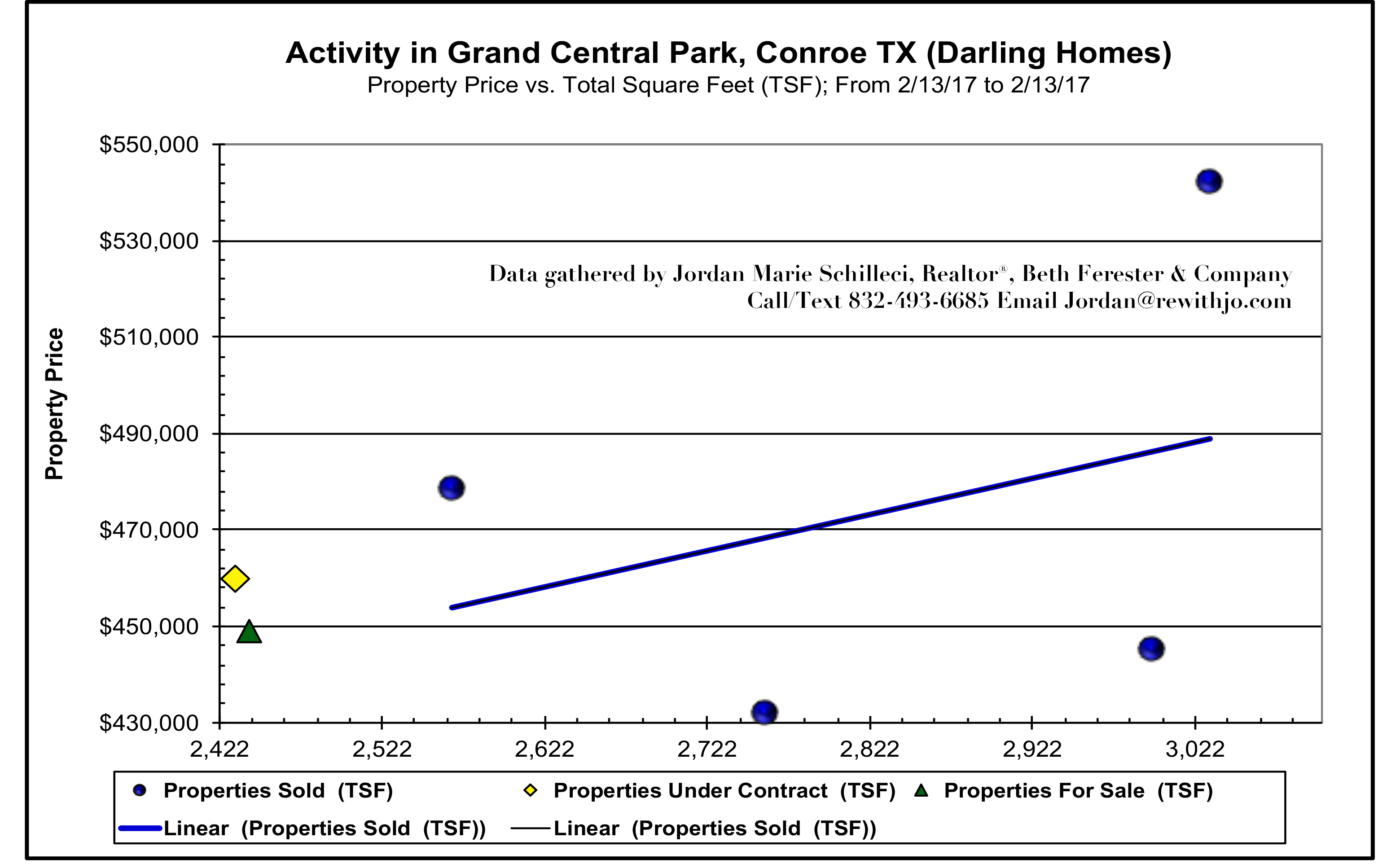 I feel like the best way to understand the data in this neighborhood is to provide you with all of it.

What I want to really point out in this spreadsheet is the price per square foot. We don't know what upgrades the home buyer decided to install, but knowing the range for each builder is super important in negotiating. I am going to do the same thing for the other 3 sold builders in the community.
David Weekly Homes
No homes have yet sold that have been built by David Weekly, but here is the inventory..

Jaeger Homes
Obviously Jaeger has not been in the community very long, only has two homes for sale, and no sold specs.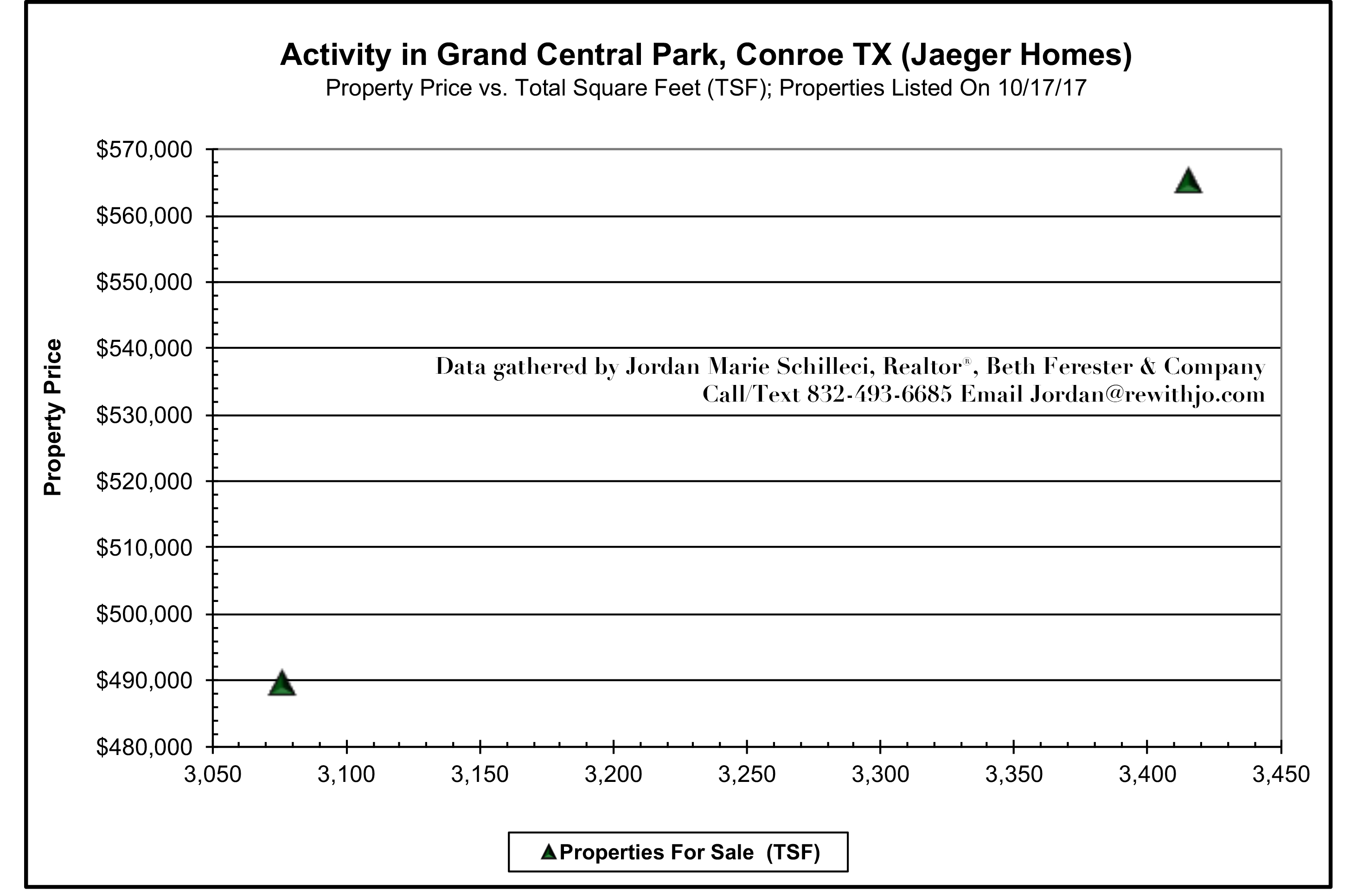 Perry Homes
Perry Homes has been active in the community the longest, and has built the most amount of homes.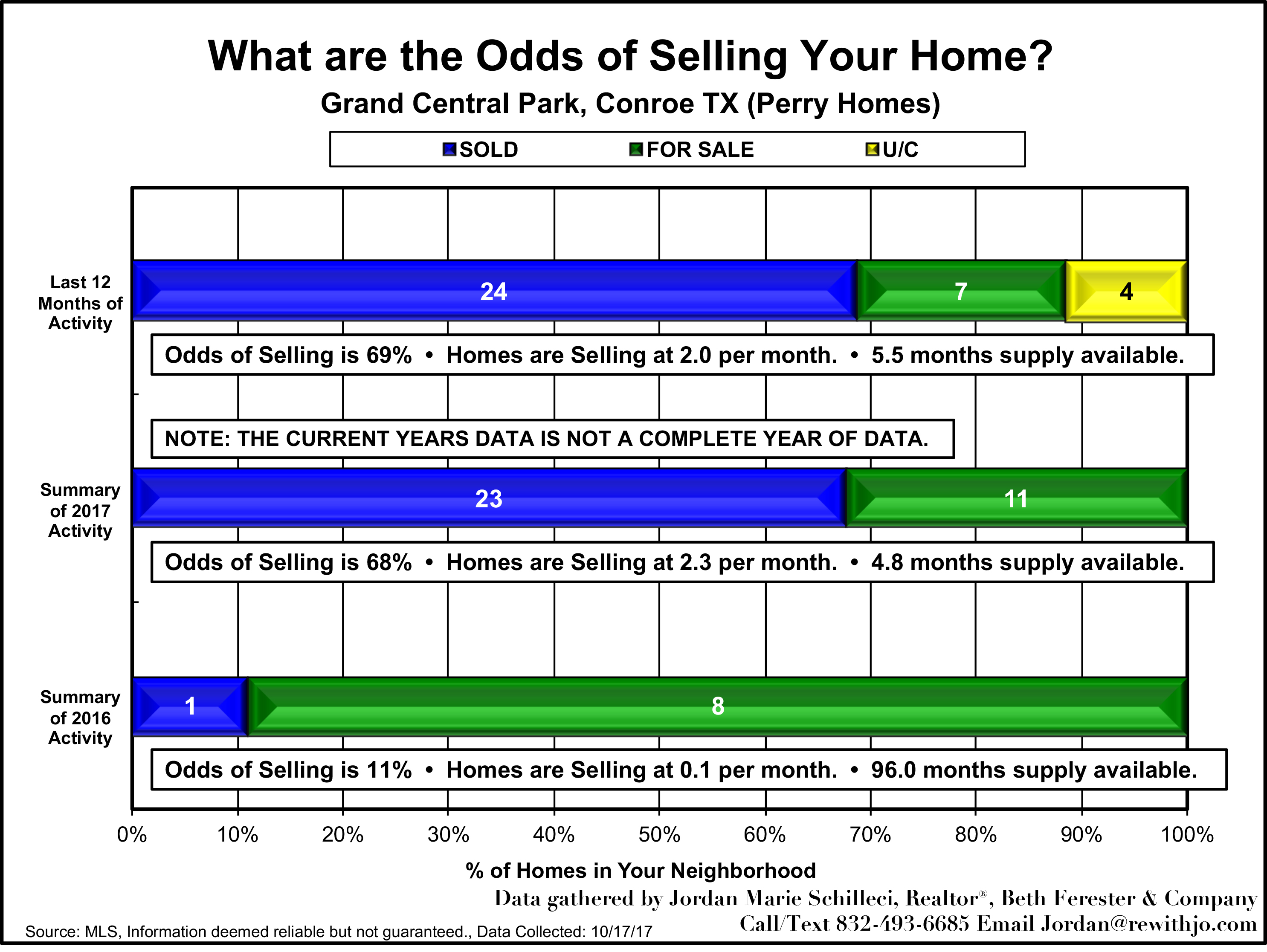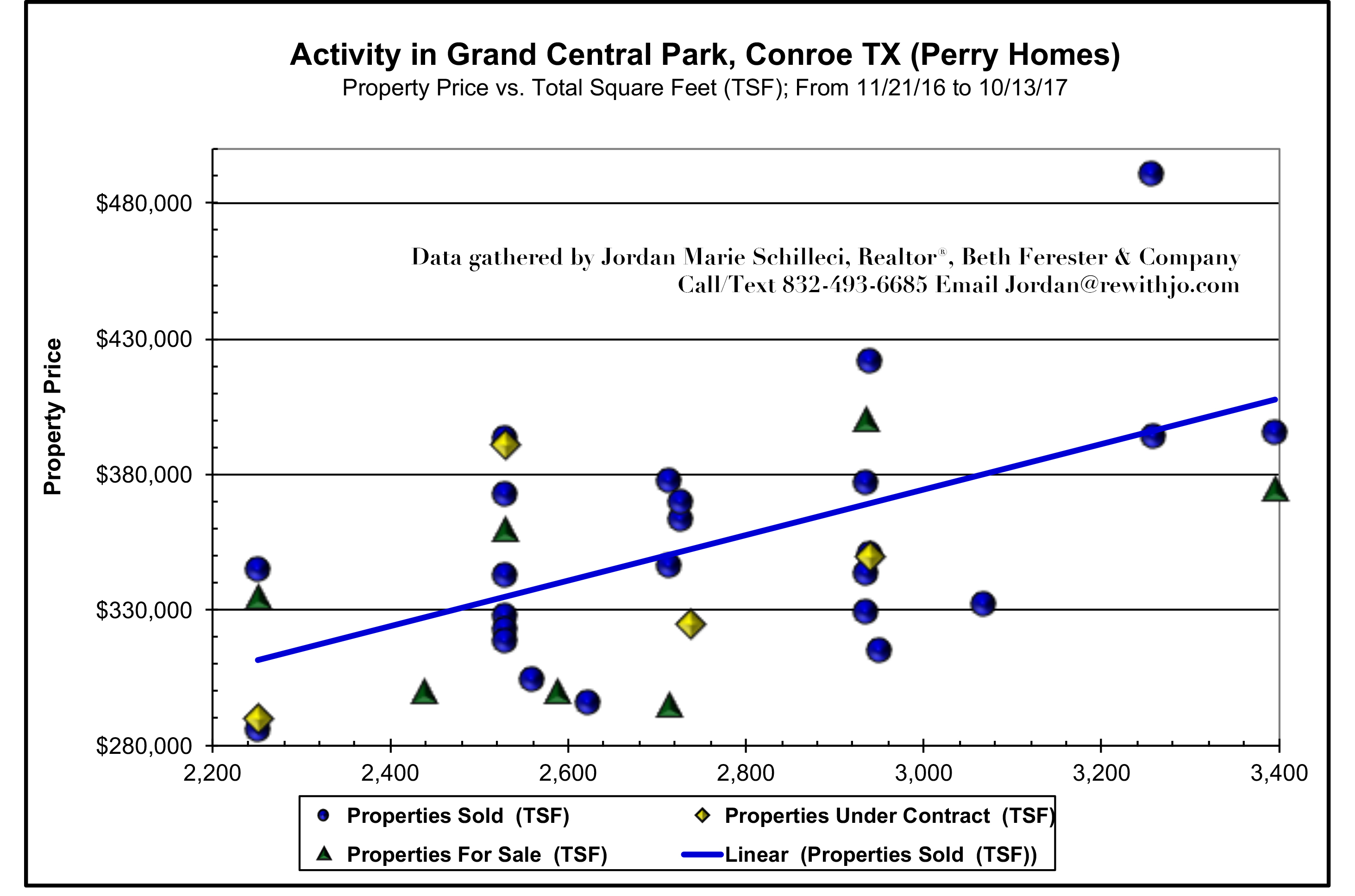 To see the information for all the data points from above, feel free to view this .pdf file.
There are some other builders within the community, including: Village Builders, Coventry Homes, and Drees Custom Homes. These just don't have any public data within the Houston MLS database.
So conclusion? If you are looking to purchase a home that will help you acquire some equity, check out Grand Central Park. Getting into a neighborhood within its first phase, is super smart, in my opinion. And I am pretty sure they are kicking Woodforest's booty when it comes to sales right now! Lol.
Until next time..
Your Realtor,
Jordan Marie Schilleci, REALTOR®
Beth Ferester & Company
Call/Text 832-493-6685
Email [email protected]