A little over a week ago, a sweet family from Portland, Oregon reached out to me, about their upcoming move to The Woodlands, scheduled for this summer. We talked about their new little one, their expectations in a home and neighborhood, and finances.
One thing I have learned a lot about over and over, is that people that aren't from Texas, understandably don't know much about how property taxes here in Texas affect their monthly payment. And one thing I pride myself on, is educating my buyers about just that.
If you choose to finance the purchase of your home, your monthly payment is dependent upon many variables: your interest rate (your credit, your DTI (debt-to-income ratio) etc.), how much money you put down, if you have to pay PMI (private mortgage insurance), the purchase price of the home, the tax assessed value of the home, the tax rate for that particular home, the age of the home (affects the cost of home owners insurance), and the cost of home owners insurance (also affected by one's credit score).
Monthly Payment break down:
Principal
Interest
Taxes
Insurance
My sweet Portland family isn't quite ready to begin working with a lender yet, so I happily helped them with the numbers, so we could both get a sense of what price point of homes we should be looking at. We started off with a budget of $2100 a month (with a minimum of 20% down, to avoid PMI).
I started explaining that the reflective purchase price heavily depended on the property tax rate, and made this illustration for them..
| | | | | |
| --- | --- | --- | --- | --- |
| Home Price | $280,000 | $290,000 | $300,000 | $310,000 |
| Down Payment | 20% | 20% | 20% | 20% |
| Interest Rate | 4.0% | 4.0% | 4.0% | 4.0% |
| Term | 30 years | 30 years | 30 years | 30 years |
| Hazard Insurance Estimate (.68%) | – | – | – | – |
| Tax Rate | 3.3% | 3.0% | 2.7% | 2.4% |
| Monthly Payment | $1998 | $1997 | $1991 | $1980 |
Keep in mind that this table assumes the home is tax assessed at the exact price you purchased it, but what is more likely, is that the home is tax assessed for a bit less, making the monthly payment less. And this also doesn't account for any exemptions you might qualify for.
But what this table does nicely illustrate, is that the less the tax rate, the more home you can afford. And there are many areas in The Woodlands, etc., where the tax rates are between 2.0-2.4%.
On HAR, you can see what the tax rate is for a particular area, and I can even see exactly how much the homeowner (prior to exemptions) paid in the previous year for their taxes. It is pretty easy to nail down, almost exactly what your monthly payment would be. Please keep in mind, that if you put down less than 20%, you are subject to PMI (private mortgage insurance). PMI is an extra insurance policy the bank/lender takes out on your home, and you are subject to paying this fee.
So why do tax rates fluctuate from one neighborhood to the next?
This is a very good question. It just depends on the schools, colleges, MUD, etc. If the home is in a new area, where the municipal utility district is new or newer, the cost for the MUD is very dominate in the taxes.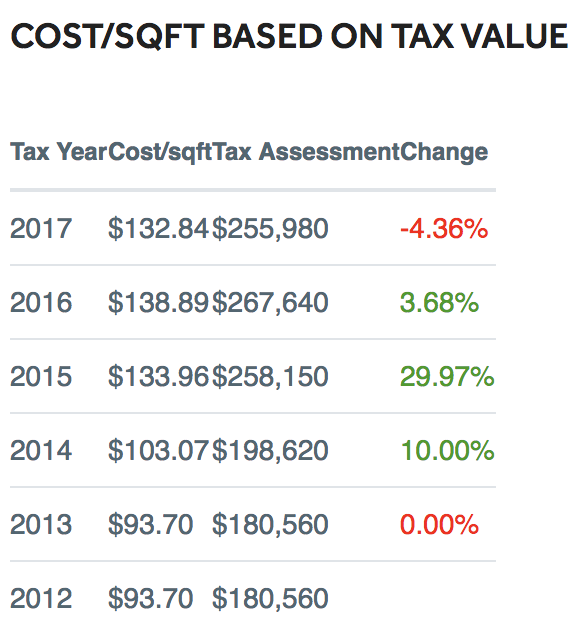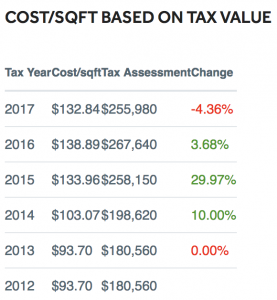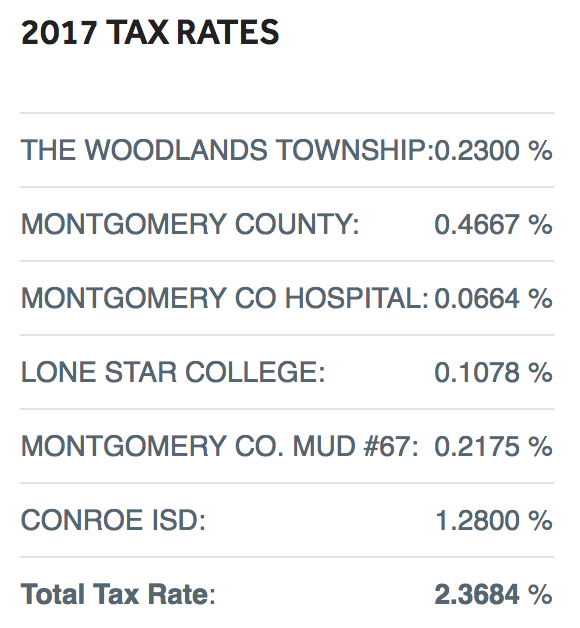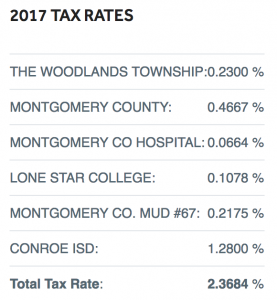 These two images show you how firstly, how a tax assessed value can change year to year, and the break down of the taxes for a particular home in The Woodlands. The home above was built in 1995, for sale for $300,000, and $6,063 was paid out in taxes in 2017 and the home below was built in 2012, for sale for a little bit below $300,000., and $8,639 was paid out in taxes in 2017.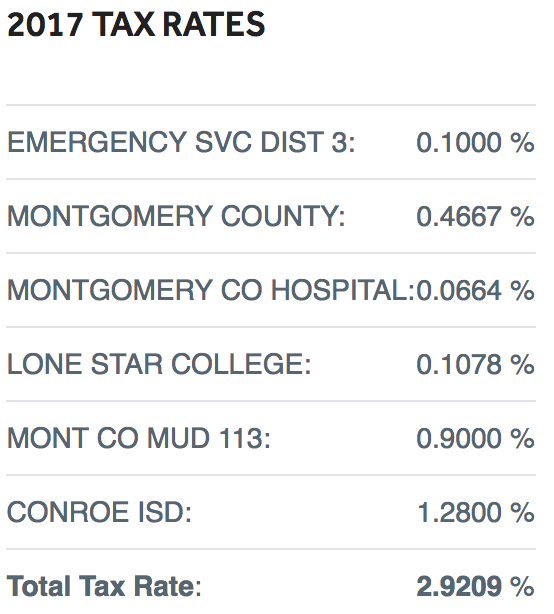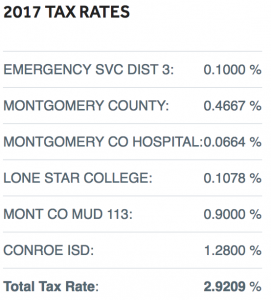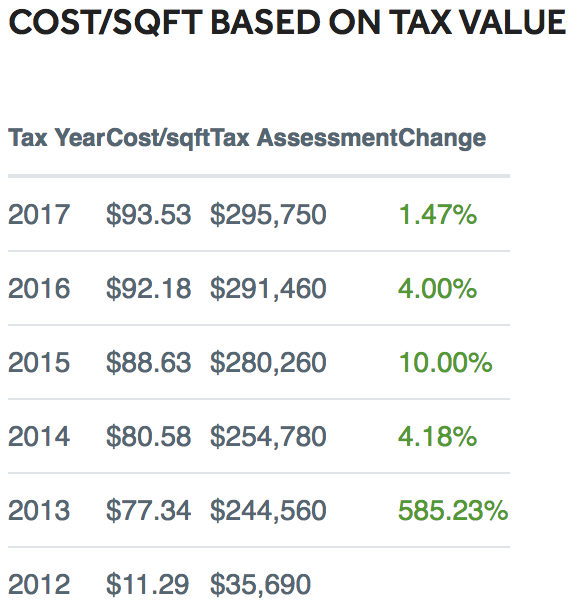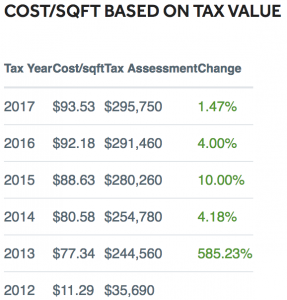 These two homes are relatively close to each other in location, but you can see they are part of two different MUDs.
I think this is a very good illustration with a $2500+ swing in yearly tax bills, which would be about a $215 difference in monthly payment.
But any who, back to the story. So after I showed her the above table, she told me,
It's crazy to think the property taxes make such a difference there. We bought our home here in Portland for $405k, with 20% down, and our payment is the same as the figures you are giving me.
One thing to note, is that in Texas, we do not have a state income tax, and as my dad says, six one way, half a dozen another..
So to get the same caliber of home, we are going to start looking at homes in the $400,000.
Now this story isn't just specific to the Portland family. I have had the same conversation with many families from California, Mississippi, and North Carolina, to just name a few.
Hopefully this is helpful for you!
We are so happy you found our little corner of the interwebs. We look forward to y'all reaching out to us. We love to answer questions and welcome them. Recently we created some local maps, and you can download those by clicking the image/link above. Below, you will find an index of some very helpful information to assist you in learning more about the Houston suburbs. If you are relocating to our neck of the woods, we hope you reach out to us, because we would love to help you by being your local realtor and friend. Hugs, Jo.
Thoughtfully written for you by Jordan and the Jo & Co. Team.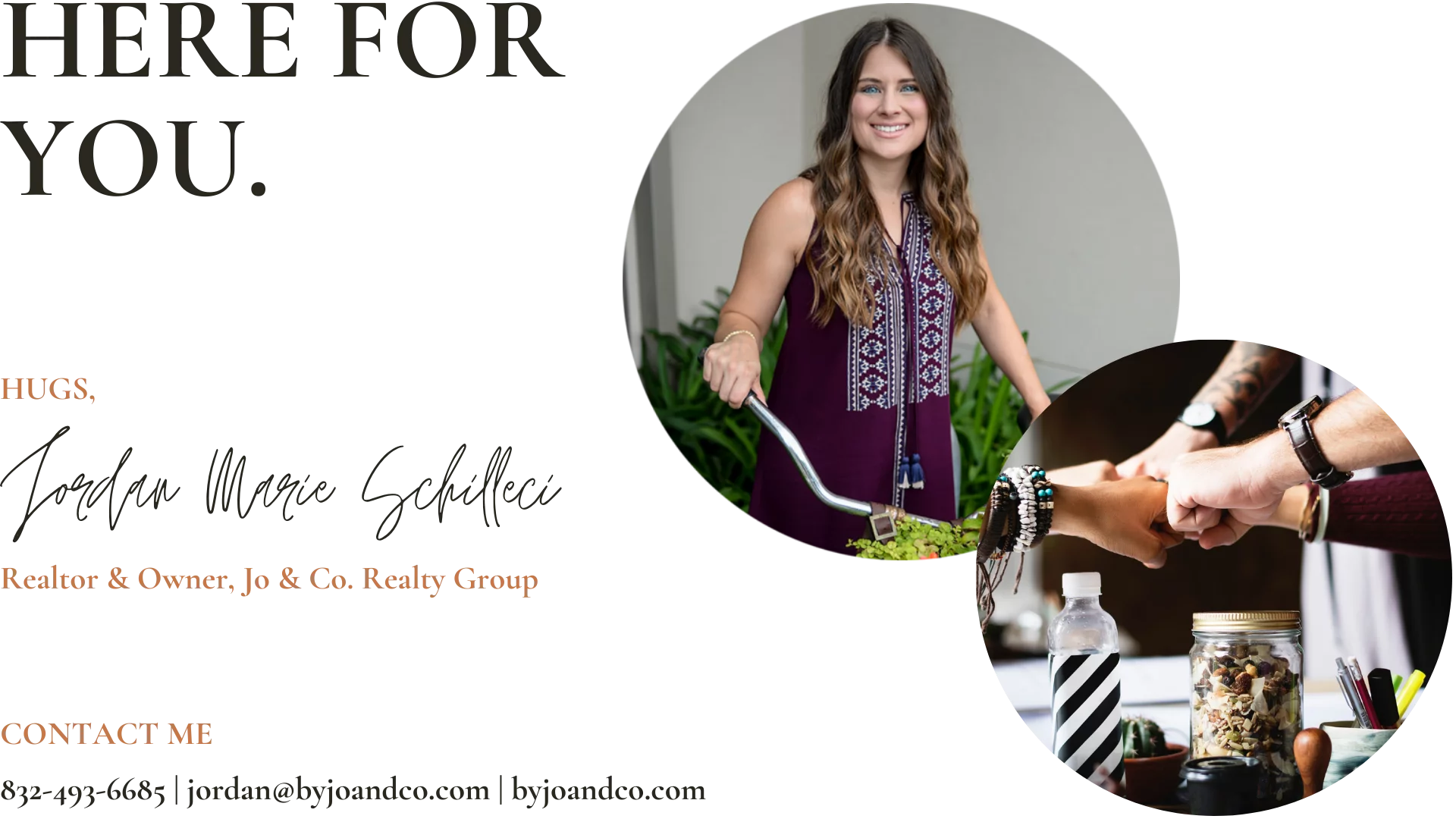 We are Waiting for You
If you are looking to relocate to the Houston Area, we would love to meet you, and hear your story. Below you will find all of my contact information, as well as some homes for sale in the area. We truly look forward to hearing from you! P.S. Don't forget to check out our YouTube Channel!

If you are overwhelmed..
Now if you are feeling overwhelmed on where you should plant your roots, I would love to talk to you. You can schedule a call with me by click this link: http://byjoandco.com/call or just send us an email: [email protected]. There are some amazing communities all over the Houston suburbs. In this post, https://search.byjoandco.com/blog/best-neighborhoods-in-houston/, I deep dive into all the different suburbs/neighborhoods that you might want to consider, and why. There are many resources here, so please reach out if you are curious what to look at next! Thank you for trusting us.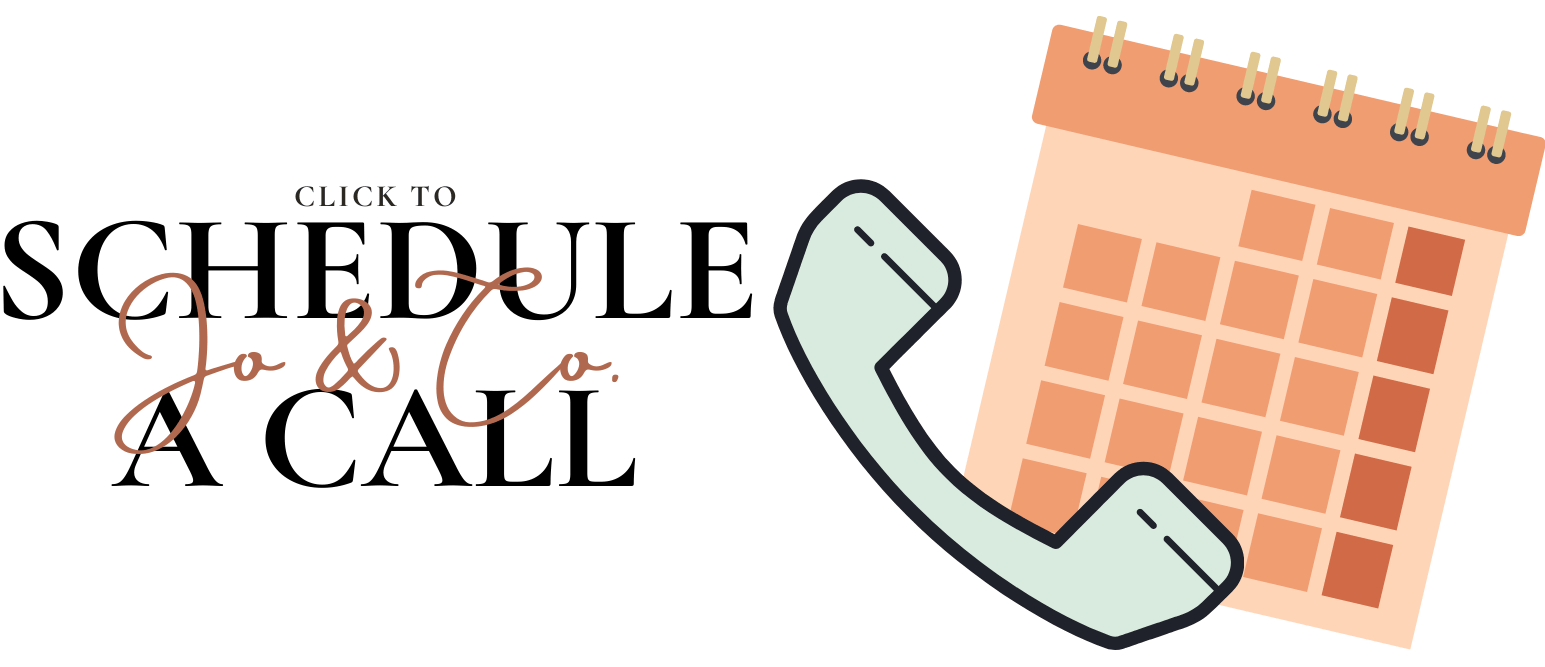 Links to check out..
➟ Our YouTube Channel :: http://byjoandco.com/youtube
➟ How do property taxes work in Texas? :: http://byjoandco.com/propertytaxesintexas
➟ Things to do in The Woodlands :: http://byjoandco.com/inthewoodlands
➟ Safest Neighborhoods in Houston :: http://byjoandco.com/safesthouston
➟ Best Neighborhoods in Houston :: http://byjoandco.com/bestneighborhoods
➟ Houston Texas Where to Live :: http://byjoandco.com/houstontexaswheretolive
➟ First Time Texas Home Buyer :: http://byjoandco.com/firsttimetexasbuyer
What next?!
• Download our Moving to Texas ebook! http://byjoandco.com/movingtotexasebook.
• Download our Where to Live in Houston Texas ebook! http://byjoandco.com/wheretoliveebook.
• Schedule a phone call or appointment with us! http://byjoandco.com/appointment.
• Email us! [email protected].
• Looking for a buyer's agent? Fill out our buyer questionnaire! http://byjoandco.com/q.
• Ready to find your dream home? Search, http://search.byjoandco.com.
• Subscribe to our YouTube Channel: http://byjoandco.com/youtube.

At Jo & Co. we know that most people struggle with the home buying or selling experience. We are a brokerage, real people, that do more for you, by being with you every step of the way, so that you plant your roots in the right soil. One way that we go above and beyond is with the content we share on YouTube. Click the photo below to explore our channel.