Today I decided to feature Creekside as my neighborhood to analyze for my daily market update. Depending on who you ask, Creekside can be found in Tomball and/or The Woodlands. The zip code backs up "Tomball", but almost everyone considers this part of The Woodlands.
Creekside is very large, unique, and houses builders of every shape and size. Nestled perfectly in the middle is Kuykendahl, and there you can find, one of the coolest shopping centers around. This shopping center houses a gorgeous H-E-B, a very convenient Walgreens, as well as many shops, restaurants, salons, and business, including The Hub Coffee Shop and Bistro and Fuddruckers. If you have not checked out this shopping center, you really should!
So to today's market update.. I compiled for data than normal, but I wanted to create the clearest picture on the status of the market there, considering their inventory is VERY large..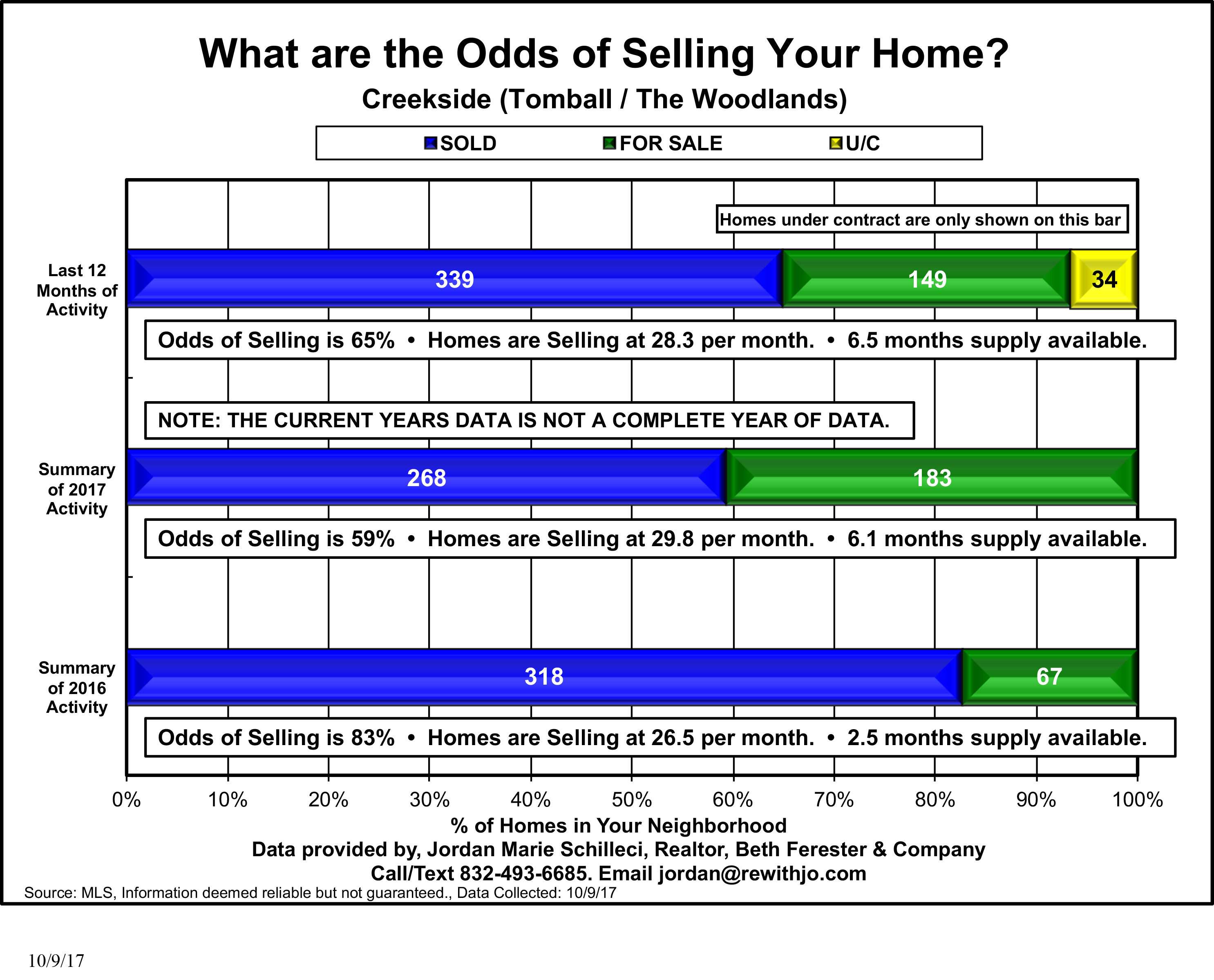 As you can see, there is a lot of inventory in Creekside, six and a half months to be exact. But homes are selling at 28.3 a month, over the last 12 months, and when you compare 2016 to 2017.. We still have almost 3 months left in the year, and we have already surpassed the sales numbers from 2016, so that is a great sign.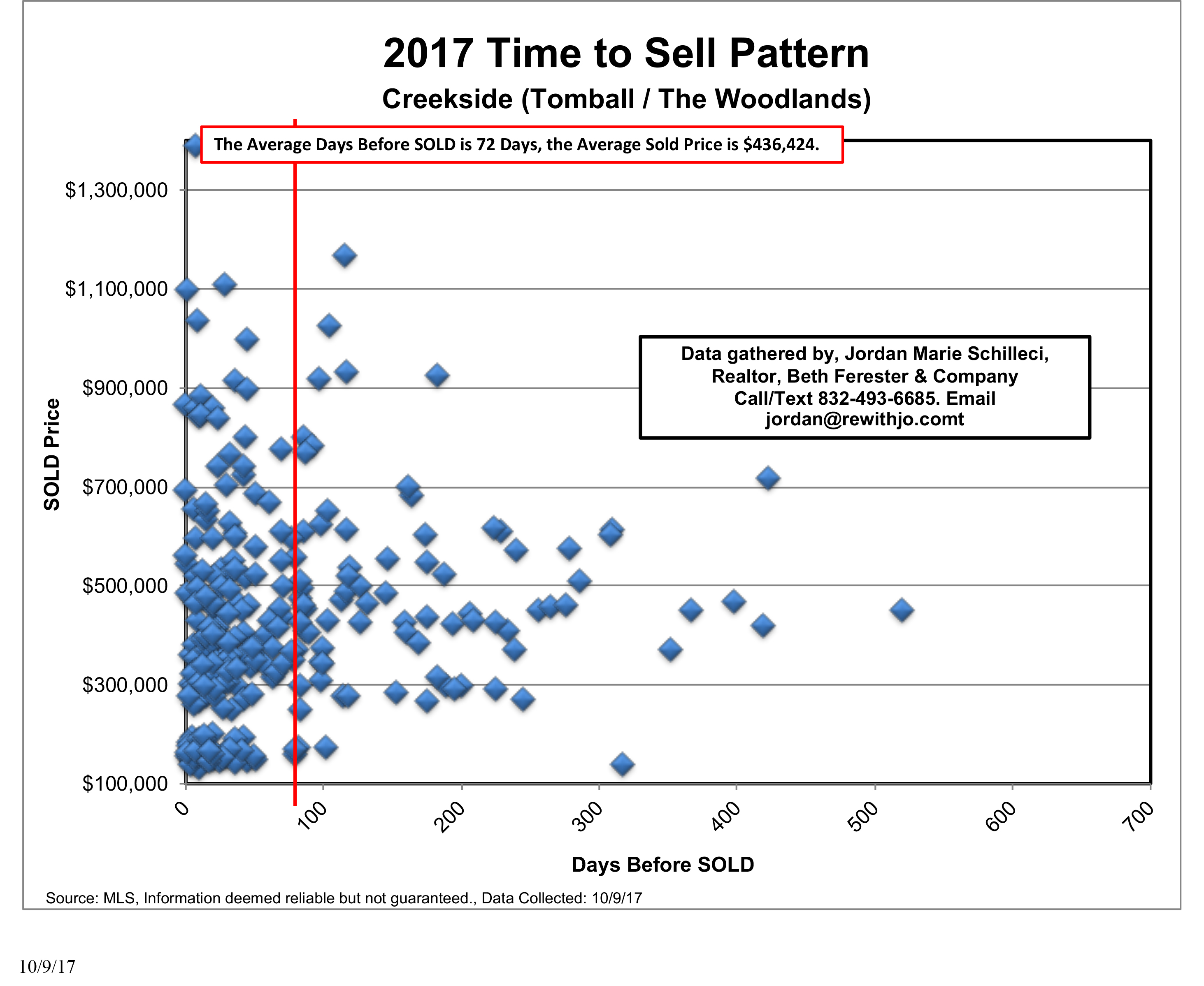 When comparing the above data, with the data following, you can see that the average days on the market is identical, but if you look closely, you will see that the average sales price has increased by $16,558!!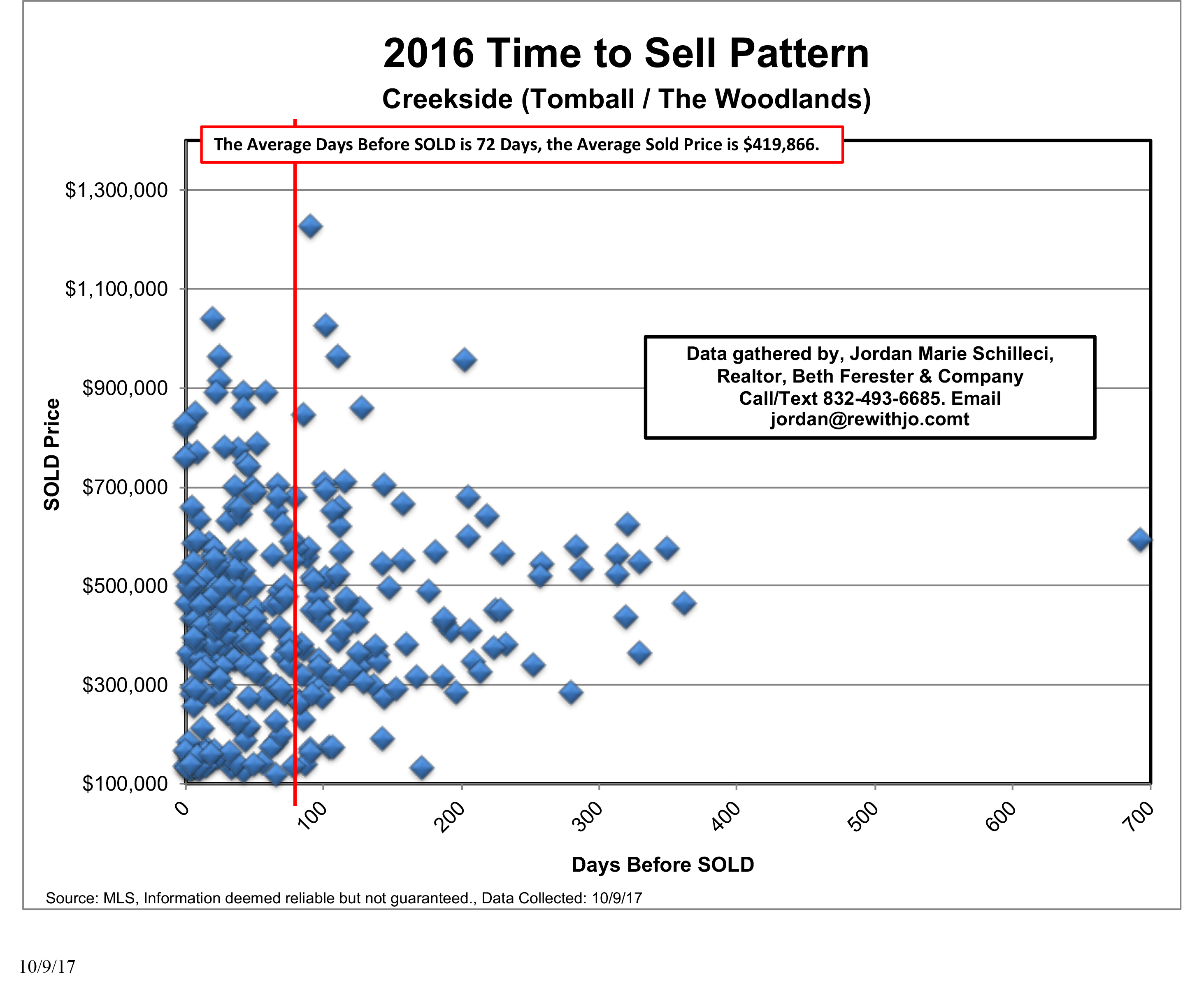 These next two graphs, which are called scattergrams, are my favorite. The first one is the last six months of transactions including the currently listed homes..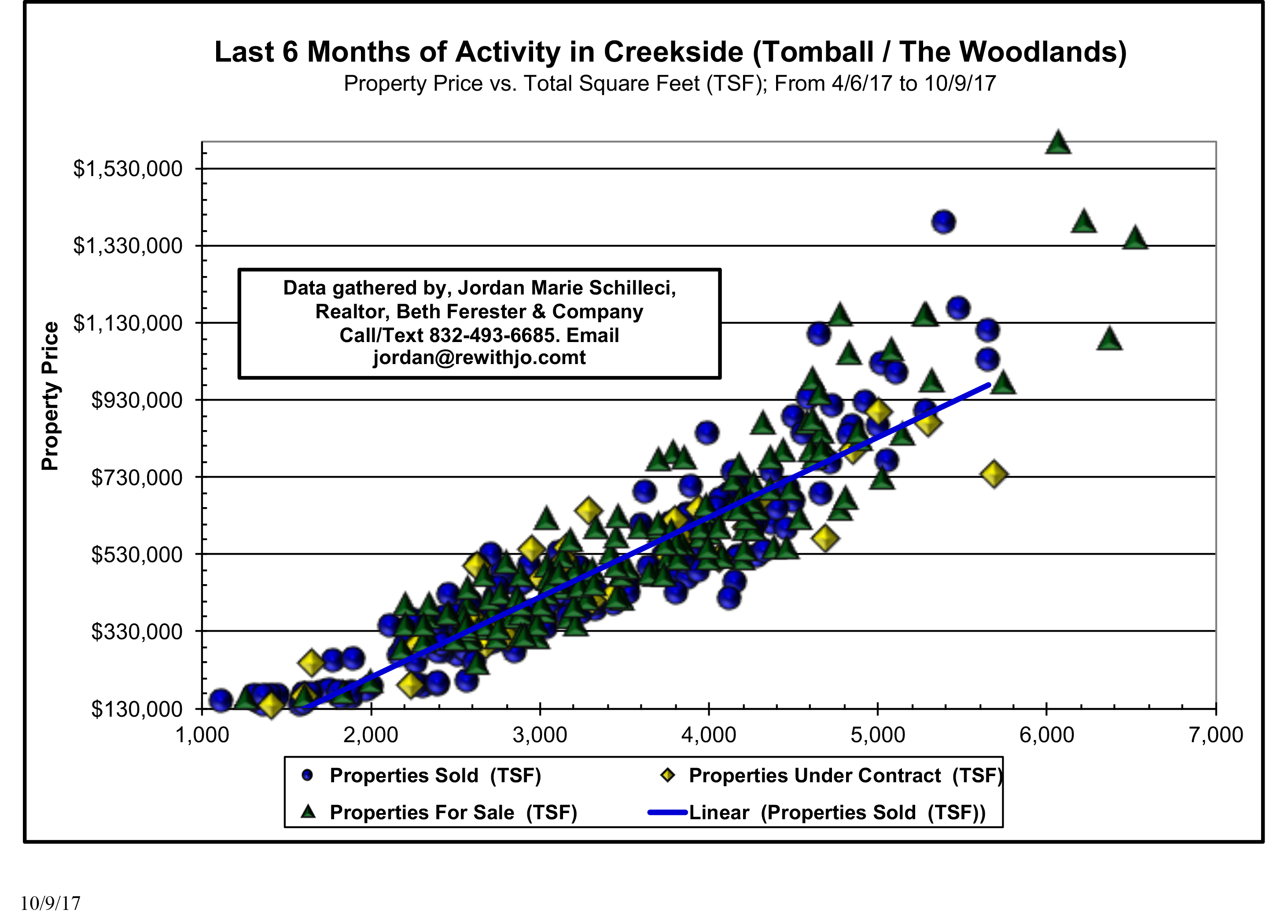 And this one is just the last six months of sales..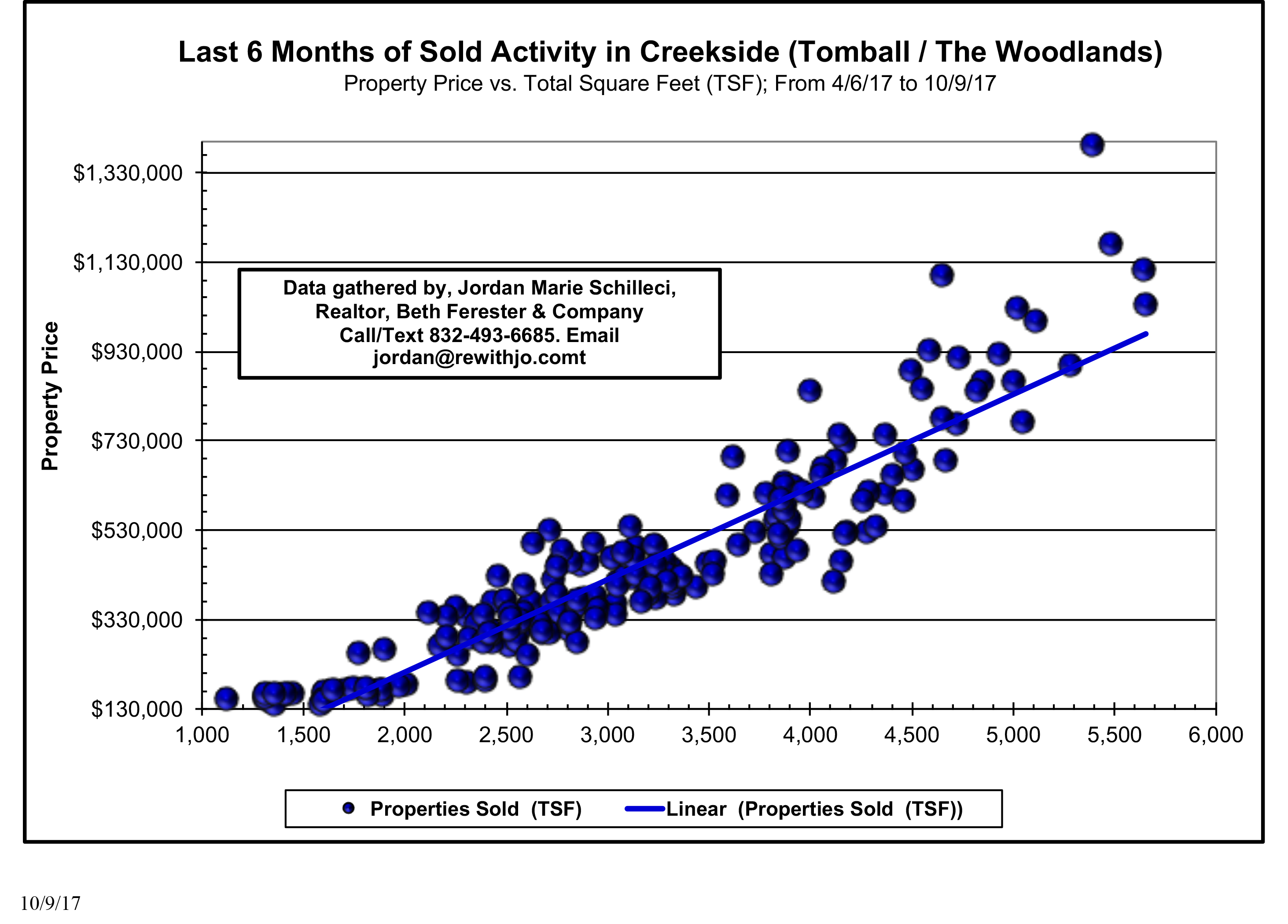 Truthfully, there is a lot of chatter in the real estate realm that Creekside's market isn't very hot. While the inventory is up, the average sales price is also up, so as long as you have your home in great condition, and listed at a number that the market speaks to, you won't find yourself on the market longer than your competition.
If you would like me to run any number specific to your home or neighborhood, please reach out. I love assisting buyers and sellers. 🙂
Your Realtor,
Jordan Marie Schilleci, REALTOR®
Beth Ferester & Company
Call/Text 832-493-6685
[email protected]